Adopt a Guardian angel for
Daytwon
Messages for Daytwon
Paul and Margaret Kasperski
Daytwon, sweetie you will never be abused again
and always have love and kindness

---

Lisa
WE will not forget you, little angel

---

Aida Rendon
harm will never come your way.
---

You are in good hands now...the Lord will take care of you with open arms

---

jade claye and sharon
rest in peace

---

Allison Elizabeth
Your needs will always be met now that you are with the Holy Spirit.

---

Kassie Lynn Johnson
I want you to know that I'm sorry for everything that you went
through and wish there was something that I could of done.Even though I
didn't know you I still would have tried to stop it.

---

janine and family
sweetheart you are happy now

---
Tracy
---

you are home safe
Sue (Kiwi)
Such a precious gift from God. You will always be remembered

---

Suzanne Thibblin
In heaven you´ll get all you need.

---

Toni Patton
I am sorry you died.

---

Tausha B.
You are in Gods hands now, no one will ever hurt u again.

---

Karen Champion N.S. Canada
You are remembered and mourned little angel. May god rest your
soul in peace, beloved child.

---

Jessica Fagan
You were too special to be here. The Lord took you to be with him.

---

Raissa and John cummings
im sorry that all that has happend to you and i wish that
someone had did something about it because thats not the way to treat a child

---

ALana Charisse
May God keep him close to him

---

nick manalis
you will always be rememberd
---

im sorry for what you went through hopefully you are happy
where you are now

---

taliba
rest in peace

---

claire
rest in peace sweetheart

---

Amanda Dyer
Bless your little heart Daytwon

---

Julia Tramantano*
you are now in a better place*

---

Mimi Mala
Makes no sence!! There is a place for people like dis! Amy u r
truely an Angel and a soilder. Gosd Bless..Amen

---

Webmor DK
May you rest in peace, sweet little innocent angel - you are
safe now in Gods hands!!!

---

The Murvine Family
I know God has you on his lap and giving you all the hugs and
Love you deserve, be free little guy.

---

Please feel free to place this angel on your web page
or in your email, so that others may find their way
here and adopt a guardian angel.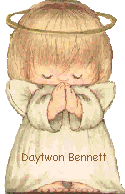 Please accept this gift for remembering him

Please adopt a guardian angel for Daytwon,
Just fill out the form