Adopt a Guardian angel for
Amy
Messages for Amy
Julia Burney
in loving memoryfor her niece
Amy Burney

---

anne - australia
sleeping peacefully

---

Margaret and Paul Kasperski
No more pain Amy, just joy and love with the angels.

---

jade claye and sharon
rest in heaven

---

Amy Hughes
i wanted you to know that even though i never knew
you, i think that if i did, i would love you

---

Allison Elizabeth
I'm so sorry for everything that you went through

---

Kassie Lynn Johnson
I can't even go to imagine how someone could be so cruel.I'm
sorry you had to go through what you went through.

---

Fernita & Rodney Harmon
We may not of known amy but we have 10 grandchildren,That we
love as you loved amy.

---

mary
rest in peace sweet angel

---

Mariam Ahmed
Do not worry Amy; there was no devil in you; just a poor angel
that never had a chance to bring good to the world

---

Karen Champion N.S. Canada
God will exact a deserving punishment to those who torture the
innocent. May your soul rest in peace little angel.

---

Jessica Fagan
Sleep with the angels precious one.

---

Alana Charisse
May God keep her close to him

---

Gina Nichols
These people really have problems, There is no excuse for
hurting, let alone killing a child.....Rest in Peace Sweetheart, you will
now forever be happy......

---

carina
Love you

---

Rosario Ramos Medina
Para mi dulce Amy que la paz de Dios este contigo

---

Victoria
you may be gone now but those people how now you will never
forget you,you little angle

---

Julia Tramantano*
rest in peace

---

Mimi Mala
Makes no sence!! There is a place for people like dis! Amy u r
truely an Angel and a soilder. Gosd Bless..Amen

---

Webmor DK
May you rest in peace, sweet little innocent angel - you are
safe now in Gods hands!!!

---

Allison Huntington
I may not have known this girl but she died so tragicly

---

Please feel free to place this angel on your web page
or in your email, so that others may find their way
here and adopt a guardian angel.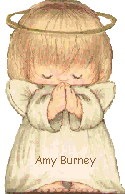 Please accept this gift for remembering her

Please adopt a guardian angel for Amy,
Just fill out the form