Adopt a Guardian angel for
The Yazzie Children




Mothers Of
Survivors


Tegan Angel


Terri Lynn
Vasquez


kristina leiva


Allyson Eickmeier


Amanda DePastino


Berit


Betsy


Casimir


Christina


Anita


Alissa


Anita


Alicia


Alison


Carol


Heather


Jenny


Jaci


Johanna


Kimberly Carter


Lovie


Lela Jarrard


Michelle


Monique


Melanie Begay


Psychotic Butterfly


Silly


Val and Jayme


Annie


shelly clarke-harvey


Caitlin


chellie


KaseyLeigh


LINDALULU


christine


zoe woods


karen jerousek


Amanda H.


Thomas and Kyra Longhway


angelina-family


Michelle Weese
Mother Of Dakoda & Kaleb


christi gilbert


Sue V


Brittani,Tiffani, & Brandi


Kathleen


April King


Allison Elizabeth
Jazana, Veneshia, Cara, and Nathalie,


jade and claye


stacie demetropoulos


Therese, Alexander; Robin. Max, Johan


Janis, Nathan, Ian, and Kayla


faith


Webmor DK


Mimi Mala


shannon tingle


Ashten Folker


Christabel Kaye


Evette


katrina


Kelly


Karen Champion N.S. Canada


Stacie


asia


Candace & Samantha


Jessica Rosales


Ladyhawk
Messages for the Yazzie Children
Brittani,Tiffani, & Brandi
God Bless all of you you guys are in a much better place now

---

Allison Elizabeth Jazana, Veneshia, Cara, and Nathalie
now you get to go to heaven too.

---

Janis, Nathan, Ian, and Kayla
May they rest in peace

---

Webmor DK
May you all 4 rest in peace. Safely in the hands of GOD!

---

Mimi Mala
Wow! Wat a sick man!Makes no sence!! There is a place for
people like dis! Yazzie Children u r truely an Angel and a soilder. God
Bless..Amen

---

jade and claye
rest in peace

---

shannon tingle
Now there will be no more pain...

---

Evette
Sweet little angels you are now on the Lord's arms, a safe
place to be.

---

Kelly
Now you've made it to Heaven too.

---

Karen Champion N.S. Canada
THe Lord will avenge thee. Beautiful angels, all of you...may
your souls rest in peace. You will always be remembered, beloved ones.

---

Jessica Rosales
may god bless your brave souls and just remember
that ya'll are in a better place now

---

Ladyhawk
Spirit took you hands and led you to a better place.

---

Please feel free to place this angel on your web page
or in your email, so that others may find their way
here and adopt a guardian angel.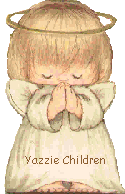 Please accept this gift for remembering them

Please adopt a guardian angel for the Yazzie Children
Just fill out the form