Adopt a Guardian angel for
Wendell
Messages for Wendell
Tasha Tobin
IM SO SORRY FOR YOUR PAIN

---

Allison Elizabeth
I love you, sweet little Wendell. Jesus is taking care of you now.

---

Virginia Lara
Have fun jumping from cloud to cloud in Heaven

---

Jennie Holtslag
The Heavens gained another little precious angel and the sky
another shining star.

---

Tina
Rest in Peace, sweet little boy

---

Jayme Leigh Clark
may you rest in peace.

---

Karen Champion N.S. Canada
The Lord will avenge thee. Those who harm the innocent will be
punished on Judgement Day. May your precious soul rest in peace beloved angel.

---

Sade
We love you.

---

Hayley Carol Lewis
Being the mother of a six-month old, I cannot imagine such
cruelty to a child. Peace is now with you.

---

Danielle Han
I hope you're resting peacefully.

---

leslie and allyson patrick
me and my daughter, allyson love you baby!

---

joana pinto
sorry

---

Emily Miller
To think that people can actually do this to their own
offspring, it is truly disgusting!

---

Danielle, David, Makayla, Emma & Jonah
Be brave little one for you shall never be forgotten

---

Webmor Dk
May you rest in peace. You are safe now in the hands of God!

---

The Murvine Family
Love is with you little one.

---

devon mitchell
may you rest in peace and that God has you now

---

Kellie
You will be in my thoughts and prayers, May you rest in peace. I know you are happy in heaven.

---

Theresa Hughes
~Suffer the little children to come unto me and forbid them not, for of such is the kingdom of God. Mark 10:14~

Please feel free to place this angel on your web page
or in your email, so that others may find their way
here and adopt a guardian angel.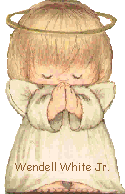 Please accept this gift for remembering him

Please adopt a guardian angel for Wendell,
Just fill out the form