Adopt a Guardian angel for
Tyler
Messages for Tyler
Leah Seslar
Rest in Peace

---

Allison Elizabeth Muller
My heart breaks for you. You were too good for this world.

---

Grandma Marcia
Watch over your sister Jordon from Heaven Little One.

---

Karen Champion N.S. Canada
The Lord will avenge thee. You are mourned and will always be
remembered little one. May your soul rest in peace.

---

Sharyn Partida
Thank God For "Angels".

---

Evette
Little precious angel you are now in the Lord's arms where
there is no pain and suffering

---

Rickie & Rebekah Mirick
Prayers are nesscesary !
God Bless The Children ...

---

Gus Partida
Rest In Peace.

---

Amanda & Diane Mirick
A Sweet Little Angel ...

---

Tyler & KayLeigh Mirick
God Bless You ...

---

becca
so so sad... i just dont have the words

---

Mimi Mala
Makes no sence!! There is a place for people like dis! Tyler
u r truely an Angel and a soilder. God Bless..Amen

---

Webmor DK
May you rest in peace - safe in the hands of GOD.

---

Please feel free to place this angel on your web page
or in your email, so that others may find their way
here and adopt a guardian angel.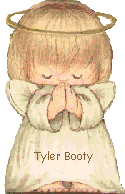 Please accept this gift for remembering him

Please adopt a guardian angel for Tyler
Just fill out the form