Adopt a Guardian angel for
Tracy




Kathy Dagenais


Jama Wesley


Chrissy


David & Chris


Dondi


Alicia


Gloria


Gabriella


John-boy


Karen Neeley


Lauren


Latin Sweetie


Lindz fujiwara


Monique


Michelle Bolyard


Pat


Tracy Cook


twinkle_42


tracy zurface


Annie


shelly clarke-harvey


Lori Roberts


Jami Sue Murphy


LINDALULU


christine


Caitlin


KaseyLeigh


angelina-family


Thomas and Kyra Longhway


Stigma


Joanna


christi gilbert


Sherri aka PinkAngel-701


Therese, Alexander; Robin. Max, Johan


Kiwi


Maja


Allison Elizabeth


stacie demetropoulos


Rose


JADE AND CLAYE
RIP


Kathleen


faith


Tyler Dagenais


Christine


Webmor DK


Justine


Mimi Mala


jennifer cj and brenda


katrina


Ashten Folker


Karen Champion N.S. Canada


Candace & Samantha
Messages for Tracy
Allison Elizabeth
You are precious in the Lord's sight and you're terribly
precious in mine.

---

Christine
RI Tracy..Your pain and suffering is now gone.

---

Webmor DK
May you rest in peace - safely in the hands of GOD!

---

Mimi Mala
Makes no sence!! There is a place for people like dis! Tracy u
r truely an Angel and a soilder. God Bless..Amen

---

Karen Champion N.S. Canada
The Lord will avenge thee. May your soul rest in peace little angel.

---

Please feel free to place this angel on your web page
or in your email, so that others may find their way
here and adopt a guardian angel.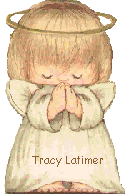 Please accept this gift for remembering her

Please adopt a guardian angel for Tracy
Just fill out the form