Adopt a Guardian angel for
James
| | | | | |
| --- | --- | --- | --- | --- |
| Christel | Dawn Stephens | Lisa | Mistie | Silly |
| April | Annie | Chad and Raynee Hamer | shelly clarke-harvey | Yvonne W Eriksson |
| Lori Roberts | kittenkat04240 | Helené | LISETTE BERGH | chellie |
| Andrew and Tammy Bowen | KaseyLeigh | LINDALULU | christine | Erica DeRosa |
| Amanda H. | Thomas and Kyra Longhway | angelina-family | christi gilbert | Marjatta |
| Kathleen | Linda | stacie demetropoulos | Allison Elizabeth | Cristen Maxwell |
| Maja | April king | Therese, Alexander; Robin. Max,Johan | Candace & Samantha | Karen Champion N.S. Canada |
| Ashten Folker | Evette | Dawn Garcia | katrina | jennifer and cj |
| athni | Jessica Oleson | Shannon Tingle | Mimi Mala | Webmor DK |
| faith | | | | |
Messages for James
Allison Elizabeth
I'm so sorry that no one helped you in time, but you are safe and loved now.

---

Karen Champion N.S. Canada
The Lord will avenge thee. May your precious soul rest in
peace, beloved child. You are sadly mourned.

---

Evette
God bless you precious angel

---

Dawn Garcia
Help the soul of this child. It seems your death was in vain.
I hope you will watch over any other children that cross this monsters path.

---

Mimi Mala
Makes no sence!!ONLY 2 YR! WOW.. There is a place for people
like dis! James u r truely an Angel and a soilder. God Bless..Amen

---

Webmor DK
May you rest in peace - safe in the hands of GOD!

---

Please feel free to place this angel on your web page
or in your email, so that others may find their way
here and adopt a guardian angel.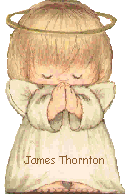 Please accept this gift for remembering him




Please adopt a guardian angel for James,
Just fill out the form


Thank you for caring and remembering