Adopt a Guardian angel for
Seleana
| | | | | |
| --- | --- | --- | --- | --- |
| Alaina | Alaina | Alicia | Brenda | Caroline Buchanan |
| Dawn | Dorte Witchmom | Eve Chilton | GwinnaAngel | Flo |
| Jean | Julie K Johnson | Jessica Osgan | Lela | Liticia Lister |
| Mary | Marisela | Mary | PAT | Silly |
| Torunn Silnes | Terri L. V. | christia torres | carolyn tillberry | chassady frisby |
| Judy Cooper | Angela | darlene | Alissa Bailey | Mia Linder |
| Annie | Susan Kizer | Jani Lindgren | Hillary Beale | Sussi |
| Selena M | Merry Laverne | ANDREA POLLOCK | Eva Carlsson | shelly clarke-harvey |
| Lori Roberts | laura s | Jade Manson | Chris | Gloria |
| LINDALULU | Valandave90 | Lori Higgins | Jennifer Martzall | mandy,paul,michaeland adam |
| Faye Harmon | ~W | Kim | Donna & Don | christine |
| Erica DeRosa | siobhan | angelique | donald and patricia heyen | Colleen and Neil |
| Felix | yvonne | Starla Hines | tina marie black | Amanda Lowe |
| Agneta Svensson | Lori Sherry | Sherrie L. Payne and friends and family | Thomas and Kyra Longhway | angelina |
| Elizabeth Ward | Anne Lazic - Australia | Amanda H. | April King | lorna |
| Agneta Svensson | Richard, Shanna, Zach, and Dana Jenkins | christi gilbert | Annis | John-boy |
| alexus | Jenni | amy | Karren Creighton | Jeanette and family |
| Mandi | Azura | nicole | Amanda Gary | Kathleen |
| Ashley Lott | stacie demetropoulos | Amy Hughes | bjs | Allison Elizabeth |
| Derek And Melissa Brown | Rebecca Harden | Rebecca | Sarah Tyne | Kathy Schroeder and family |
| Teresa | arlene | Lara & family | Camilla | Mourner |
| Therese, Alexander; Robin. Max,Johan | Chelsea Miranda | Nicole H | Candace Parton | jacqueline |
| brooke g. | Laurie K | Kim Gray | Sara Messer | Karen Champion N.S. Canada |
| Jessica Fagan | Nikki | Henrikas Balandis | Alana Charisse | katrina |
| gina manalis | Gina Nichols | Christopher & Hilary Jacobson | katrina | Kate Boss |
| Cheree | Randi | Leigh Ann & Kacy | Eloise | Tina |
| jasmine hopkins | ~DEZ~ | Suzanne | Monique & Sacara Thomas (Sister's), Vanna Wynkope-Thomas | Webmor DK |
| Vena | tina smith | Becky, Kailly and Cameron | Mandie | chris webb |
Messages for Seleana
tina marie black
love you seleana

---

alexus
i miss you seleana so so so so so so much .i can't live
another day without seeing you. i miss you seleana you was a good friend to
me. and you are still cute

---

Karren Creighton
her parents need to feel the pain that this little girl
endurd. I hope their hearts lay heavy and they see her every second of their lives.

---

Amanda Gary
Bless you sweetheart

---

Ashley Lott
Thats very tragic..

---

Allison Elizabeth
God Bless you, Seleana. The only comfort when I hear of things
like this is the truth that now God will watch over you and take away all the pain.

---

Rebecca
it's disgusting i mean found in a garbage place!!!

---

Teresa
my prays are with you

---

arlene
you are an angel

---

Mourner
Poor little angel I mourn for you but...you in a better place!

---

jacqueline
wat een mooi site heb je gemaakt voor hun die wij missen

---

brooke g.
u are in a better place

---

Sara Messer
Rest in Gods Peace.....

---

Karen Champion N.S. Canada
May god rest her precious soul. Amen.

---

Jessica Fagan
Sleep with the angels little one.

---

Alana Charisse
May God keep her close to him

---

gina manalis
mother of four

---

Gina Nichols
It is a sad day when a mother or father can kill thier own
child, life is so precious and should be to everyone. I lost my brother
Jan. 16, 2004 to an accidental overdose and it has been so hard for the
whole family, I couldn't imagine killing or even hurting my children.
May God look down and touch each and every one of us and help us to be
the best parents and people we can be.....

---

Christopher & Hilary Jacobson
God Bless Our Angels In Heaven, Who Are Loved By Many Who
Never Knew Them !!

---

Cheree
Safe in Heaven!

---

Eloise
I didn't know Selena, but she didnt need to die like that

---

Tina
rest in peace

---

~DEZ~
sorry that had to happen to you and you were takin' away to early!!

---

Monique & Sacara Thomas (Sister's), Vanna Wynkope-Thomas
Vanna may you never feel the pain this kind of pain due to
child abuse. We love you baby girl.

---

Webmor DK
May you rest in Peace. You are safe now and in Gods Hands.

---

tina smith
was really touched by this web page

---

chris webb
i am saddened by this tragedy ,seleana you are a angel in heaven..

Please feel free to place this angel on your web page
or in your email, so that others may find their way
here and adopt a guardian angel.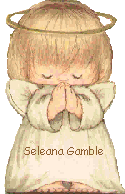 Please accept this gift for remembering her




Please adopt a guardian angel for Seleana,


Just fill out the form


Thank you for caring and remembering