Adopt a Guardian angel for
Samantha
| | | | | |
| --- | --- | --- | --- | --- |
| Anna | Erika Reynolds and Kevin Reynolds | Mary Ann Leppert | owmn | MARIA CISNEROS |
| Helena | Angel Rose & Mick | Amy Grubbe | abby | Birgit |
| Belinda Steffensen | Brie, Nicole, Melissa & Melee' Anne | Candy | Claudia | Camilla |
| Cathy | Conny Fischer | Deanna | Dea Crocker | Elin |
| Carol | Ginny | Gillian | Ginevra | Ingrid |
| Ingrid | Ian | Jenny | John-boy | Jennie |
| Jennifer | Joyce | Julee | Kathy | Kerstin |
| Karen Benjamin | Karen | Leah | Lionheart | Leah Maberry |
| Mystic | Melissa | marchelle | Pamela | Paul |
| Pia Cox | Paulina Tibblin | Roberta Youngs | Samantha | Smiley2288 |
| Silly | Sue | Silver Linings | Sandy | Samantha |
| Samantha Montalvo | Tracy | Tammi & Diana | The Lathrops | Tina and Baby Jessica Deschambault |
| Tina | Yvonne | Jessica Bergh | ABBEY AND JODY | Patricia |
| AngelSearch | Alexandra Struss | shelly clarke-harvey | Lori Roberts | Annie |
| Linda | Helené | LISETTE BERGH | KaseyLeigh | LINDALULU |
| Laura | Erica DeRosa | christine | Anna | Thomas and Kyra Longhway |
| margaret and paul kasperski | traci | Amanda H. | Linda | Leah Seslar |
| angelina-family | wanda kelly | Ann | christi gilbert | Eva Tudela |
| Sarah | Anna Camilla | Hanna&Lovisa | Tabitha | Kathleen |
| Heather | stacie demetropoulos | Susanne Silfver | Allison Elizabeth | Rebecca Harden |
| Cristen Maxwell | Maja | April King | Sarah & Edvin | Therese, Alexander; Robin. Max,Johan |
| Rebecca, Kylie, Robbie & Robert Harden | Candace & Samantha | asia | Karen Champion N.S. Canada | Ashten Folker |
| Catherine and Emily | Evette | katrina | Randi | Madeleine |
| jennifer and cj thomas | Alicia Swofford | nickala | Mimi Mala | Webmor DK |
| faith | The Murvine Family | Alexanderia | | |
Messages for Samantha
margaret and paul kasperski
samantha you are with the angels now

---

Hanna&Lovisa
We will always love you 4-ever

---

Tabitha
May God bless you and keep you. May you be at peace as you
rest in HIS keeping.

---

Allison Elizabeth
Little Samantha Alena Peck will never be forgotten.

---

Karen Champion N.S. Canada
The Lord will avenge thee. You are sadly mourned. May god rest
your soul precious angel.

---

Evette
God bless you precious angel

---

jennifer and cj thomas
rest in peace lilttle one

---

nickala
rest in peace. you are now out of harm

---

Mimi Mala
Wow!!!Makes no sence!! There is a place for people like dis!
Samantha u r truely an Angel and a soilder. God Bless..Amen

---

Webmor DK
May you rest in peace - safe in the hands of GOD!

---

The Murvine Family
Rest with the angels preciouse.

---

Please feel free to place this angel on your web page
or in your email, so that others may find their way
here and adopt a guardian angel.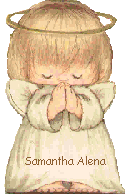 Please accept this gift for remembering her




Please adopt a guardian angel for Samantha,
Just fill out the form


Thank you for caring and remembering