Adopt a Guardian angel for
Devon & Damon
| | | | | |
| --- | --- | --- | --- | --- |
| Stephanie | Tiia Vuori | Crystal Hinkle | Doris | Ronald E. Farmer |
| Esther P. Coleman Novoa | Karen Benjamin | Jennifer W | Agneta Pavlov | Christina |
| Carolyn Hughes | Carmen George | carmen rosa | Alison | Jennifer |
| Jessikah | Kelly | Mary Ellen & Ej | Mystic | Melissa |
| May | Michelle | Nichole Kirby | Philly | Psychotic Butterfly |
| Sue | Sherry | Stephanie Asalone | Cassandra Rose Truax | Annie |
| shelly clarke-harvey | Lori Roberts | LINDALULU | KaseyLeigh | Caitlin |
| DENISE CLARK | Carol Miranda | Marva | Chris, Missi & Ethan S | Amy, Roy, & Dylan |
| Tyler, Lanie, and Jenna | April Steegstra | angelina-family | Thomas and Kyra Longhway | Sarah |
| Stormie | ally | Jenn | christi gilbert | Alisha and Dominic |
| Joan | Kathleen | Brandi | Nina | Pia |
| Kathryn | JADE AND CLAYE | LMW | stacie demetropoulos | Patricia Geier |
| Allison Elizabeth | Rebecca Harden | Kim Czerwinski | Robin Sullivan | michelle pander |
| maggie | Cristen Maxwell | Jennifer Watters | Therese, Alexander; Robin. Max, Johan | Mary Sappington |
| Candace & Samantha | asia | Jami Lyn | Jayme Leigh Clark | Karen Champion N.S. Canada |
| Sara Cooper | Erica | Livers Family | Tracey French | Ms. Mary E Lawrence |
| Catherine | Cassie R. Belau | katrina | Rosemary Newey | Angela |
| Morgan | Nicky Tucker | Mimi Mala | Ashley Horstman | Webmor DK |
| mylene | faith | Mandie | | |
Messages for Devon & Damon
Joan
Gods precious little ones

---

Brandi
u all r in a better place

---

Nina
I hope that the boys have a better time in heaven then what they had on earth .

---

Pia
I hope you are as happy in heaven like you are at the picture.

---

Patricia Geier
Pray for your Mother

---

Allison Elizabeth
I love you guys. You are such precious little angels. Devon, I
know you will look after little Damon. Damon, I know you and Devon will
make God two very fine angels.

---

Kim Czerwinski
May their souls rest in peace for the tragedy of their death
remains a horror here on Earth.

---

Mary Sappington
Precious little angels!

---

asia
rip angels

---

Jami Lyn
Shine on us lil' boys! You are safe with God now!

---

Jayme Leigh Clark
may you rest in peace. daddy hope your looking out for me may
you rest in peace also.

---

Karen Champion N.S. Canada
Those who harm the innocent will be punished on Judgement Day.
May your souls rest in peace little angels. You are sadly mourned.

---

Sara Cooper
God Bless These Sweet,Sweet Babies....

---

Erica
I know Christ is holding both of you in his arms!

---

Tracey French
Always In God's Safe Care

---

Catherine
I want to adopt an angel for these sweet boys!

---

katrina
you are now 2 beautiful angels

---

Rosemary Newey
God Bless you both

---

Morgan
may you always be much loved...!

---

Nicky Tucker
Now you guys are up in Heaven with Jesus and God and all the
other angels like you 2 were on earth and now in Heaven!

---

Mimi Mala
Wow!!!Makes no sence!!Sooo cute... There is a place for people
like dis! Devon & Damonu r truely an Angel and a soilder. God Bless..Amen

---

Webmor DK
May you both rest in peace - safely in the hands of God!

---

faith
You will feel no pain. You are home with our savior Jesus Crist our Lord.

---

Please feel free to place this angel on your web page
or in your email, so that others may find their way
here and adopt a guardian angel.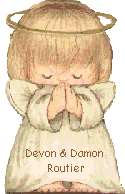 Please accept this gift for remembering them






Please adopt a guardian angel for Devon & Damon
Just fill out the form


Thank you for caring and remembering