Adopt a Guardian angel for
Rebecca
| | | | | |
| --- | --- | --- | --- | --- |
| adrianna ramirez | Mandy Pannell | Anita Vanzile | Sara o elin | Cathy Bowen |
| jackie booker | Carrie Mohle | Caroline Buchanan | Anne | Emma |
| Gail | John-boy | Johanna Alvinsson Larsson | Lina Wikstrand | marlen,sara and little marlen |
| Robbie | Solivian | ABBEY AND JODY | Annie | EILEEN |
| Amy | shelly clarke-harvey | Lori Roberts | Kyla | Caitlin |
| KaseyLeigh | LINDALULU | Thomas Becky A KPWA | Erica DeRosa | christine |
| Amanda H. | anne - australia | April King | Thomas and Kyra Longhway | Dawn Morris |
| angelina-family | christi gilbert | Kathleen | Teri Green | stacie demetropoulos |
| Rebecca | Therese, Alexander; Robin. Max, Johan | Rebecca Harden | Candace Parton | Kim Gray |
| Karen Champion N.S. Canada | Alana Charisse | Evette | katrina | Tanya Hill |
| Randi | jennifer and cj | Jannet | Julia * | wahiba |
| MiMi Mala | Webmor DK | Natalie | faith | Tamara and Chloe |
Messages for Rebecca
Rebecca
I hope now she is in heaven with Jesus having the time of her
life god bless you Rebecca Meza

---

Karen Champion N.S. Canada
You are mourned, little angel. May god rest your soul in
peace, beloved child.

---

Alana Charisse
May God keep her close to him

---

Evette
God bless you little angel

---

wahiba
hey rebecca, ure so lucky to have soo many guardian
angels....may they guard all the while in heaven so ure never in pain again :)

---

MiMi Mala
Makes no sence!! There is a place for people like dis! Rebecca
u r truely an Angel and a soilder. God Bless..Amen

---

Webmor DK
May you rest in peace - safe in the hands of GOD!

---

Natalie
I wish noone would hurt any one.
I wish this world would be lovely.
No abuse at all!

---

Tamara and Chloe
We believe you were a beautiful little girl who would have
done alot with your life if only you were given the chance.

---

Please feel free to place this angel on your web page
or in your email, so that others may find their way
here and adopt a guardian angel.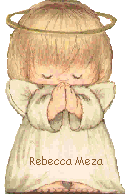 Please accept this gift for remembering her




Please adopt a guardian angel for Rebecca



Thank you for caring and remembering