Adopt a Guardian angel for
Rayvon
| | | | | |
| --- | --- | --- | --- | --- |
| Melissa Leonard | Sara Robaugh | Chris | ChrismS | Carmen George |
| Christine lee Tameles | Desiree | Janelle | Judy | Jana |
| Kim | Lisa | Max Dannon | Silver Linings | Samantha House |
| Sheila | Trish | Tinamarie Brady | shelly clarke-harvey | Lori Roberts |
| Elizabeth | Caitlin | KaseyLeigh | LINDALULU | Tommy & Patty |
| Angela | Thomas and Kyra Longhway | anne - australia | Leah Seslar | angelina-family |
| christi gilbert | Layla | faith | Webmor DK | sekinat adenekan |
| mary a. tobin | katrina | Karen Champion N.S. Canada | Jayme Leigh Clark | Jennie Holtslag |
| Candace & Samantha | hershe | Therese, Alexander; Robin. Max, Johan | Mosah | Lisa Chavez |
| Rebecca Harden | Allison Elizabeth | Heather | Kathleen | Rayvon Woods |
Messages for Rayvon
Layla
That is so, I can't explain it. I've been curious how hot it
can get, but on your own child...?
Webmor DK
May you rest in peace - safely in the hands of God!
sekinat adenekan
god blees rayvon evans
Karen Champion N.S. Canada
I cried for you precious angel, and i WILL remember what
happened to you. You are sadly mourned little one. May you find peace in our
Lord's arms. The Lord will avenge thee on Judgement Day.
Jayme Leigh Clark
May you rest in peace.
Jennie Holtslag
Baby Rayvon, may you rest in peace.
You are forever in Gods arms now
noone can ever hurt you again.
hershe
i like the angel
Mosah
I?ve cried a long time after reading this...
Allison Elizabeth
Rayvon, sweetie, you will never be in pain again. Jesus will
take all your hurts away.
Rayvon Woods
God has taken his little angel (Rayvon) back to heaven where
he will be forever loved.
Please feel free to place this angel on your web page
or in your email, so that others may find their way
here and adopt a guardian angel.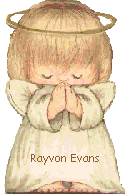 Please accept this gift for remembering him

Please adopt a guardian angel for Rayvon
Just fill out the form


Thank you for caring and remembering