Adopt a Guardian angel for
Eve
Messages for Eve
Kim Montgomery
I really would love to adopt these children.

---

Ashleigh-Allaire
RIP little angelsnn

---

margaret
god bless this little baby

---

Allison Elizabeth
No one will ever deprive you again.
Poor little babies. God be with you.

---

Hayley Henry
how could someone do that to his own children?

---

Lynn
You poor babies, Rest in Peace

---

Karen Champion N.S. Canada
Precious Eve, you are an angel now in our Lord's arms. Rest in
peace beloved one. You are sadly mourned.
I cry for your mother and for your lost lives. My condolences
are heart sent. The Lord will punish those who harm the innocent on
Judgement Day. He will avenge thee. May your precious souls rest in peace
in our beloved Lord's arms. You are sadly mourned and will be remembered, little angels.

---

Tina
may each and every soul rest in peace

---

Mimi Mala
Makes no sence!! There is a place for people like dis! Eve u r
truely an Angel and a soilder. God Bless..Amen

---

Webmor DK
May you rest in peace - safe now in the hands of God.

---

Please feel free to place this angel on your web page
or in your email, so that others may find their way
here and adopt a guardian angel.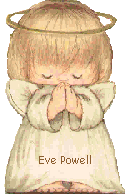 Please accept this gift for remembering her

Please adopt a guardian angel for Eve
Just fill out the form


Thank you for caring and remembering