Adopt a Guardian angel for
Angel



| | | | | |
| --- | --- | --- | --- | --- |
| Tracie | claudia | Dianne | Ange Freek | Ann |
| Hugh Browne | Jennifer | Janne | Johanna Alvinsson Larsson | Kelly |
| Lotta | Mony | Marisela | Mandi | Moma Pam |
| Paula | Pattricia | Rosa | Sidney | Tanya |
| Angela | Annie | shelly clarke-harvey | Carolyn | Lori Roberts |
| LINDALULU | KaseyLeigh | Tori and children | jenn, kayla, donny, & anthony | olivia |
| Kelly Raikes | anne - australia | Thomas and Kyra Longhway | angelina-family | Miya |
| christi gilbert | Kathleen | Megan Cummings | JADE DUNCAN | stacie demetropoulos |
| Therese, Alexander; Robin. Max, Johan | linda | Karen Champion N.S. Canada | katrina | jennifer cj and brenda |
| Mimi Mala | Webmor DK | faith | The Murvine Family | |
Messages for Angel
JADE DUNCAN
RIP YOU ARE AN ANGEL

---

anne - australia
a little angel on earth & above

---

Karen Champion N.S. Canada
You are sadly mourned and will always be remembered little
angel. The Lord will avenge thee. Rest in Peace precious one. Those who
harm the innocent will be punished on Judgement Day.

---

Mimi Mala
Makes no sence!! There is a place for people like dis! Angel u
r truely an Angel and a soilder. God Bless..Amen

---

Webmor DK
May you rest in peace - little innocent Angel. Safely in the
hands of GOD!

---

The Murvine Family
Rest in Peace little one.

---

Please feel free to place this angel on your web page
or in your email, so that others may find their way
here and adopt a guardian angel.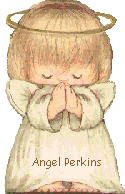 Please accept this gift for remembering her

Please adopt a guardian angel for Angel
Just fill out the form