Adopt a Guardian angel for
Nadine

Ali


Anna-Karin


Diane


Ivy


Julie K Johnson


Kim


Kacie


Liticia Lister


marlen,sara,
little marlen


Kimberly Kjellberg


Cathy Bowen


Ann Lister


Elaine & Brianna


Alissa Bailey


Molly Ann


CAnn Faniel


Annelie


Mike & Marici Hughes


KAJSA.STRAND


Jennifer Williams


Annie


Kaisa Jönsson


April Wick


stephanee black


Charisse Goodyear


Eva Carlsson


Teresa Torrens


Jonah Johannes and Family


Kathy Russell


Amy


shelly clarke-harvey


Lori Roberts


LINDALULU


Faye Harmon


sharice lockwood


Lori Higgins


Jennifer Martzall


mandy,paul,michael and adam


DJ and Skylar


chellie


KaseyLeigh


Kim


Erica DeRosa


Kendra


~W


christine


Karen


Keesha, Joe, Tyrone, Jaden, and Clayton


anne - australia


dee jackson


Amanda H.


April King


Leah Seslar


Sherrie L. Payne
and friends and family


Thomas and Kyra Longhway


Lori Sherry


angelina


Jennifer Zimmerman


christi gilbert


Lisa


Dawna Gaeta


Mandie


taneisha


Damian


Webmor DK


ladyexplosive


~DEZ~


serenity


Marta


cj and jennifer thomas


grandma Kathy


Randi


Clint & Kelly and sons Jantzen, Brendin


katrina


Gina, Bruce, Michael & Aaron Nichols


andrew manalis


Alana Charisse


Shawnique Poole and the Sims Family


kate


Jessica Fagan


Karen Champion N.S. Canada


Kim Gray


Laurie Kryzanek


Candace Parton


Nicole


Therese, Alexander; Robin. Max, Johan


Carina


suzanne thibblin


Camilla


Nadine Rosario


amelia, casey and ethan


marina


Allison Elizabeth


Amy Hughes


stacie demetropoulos


Karen K. Wenner


Cheryl


vanessa


jade and claye duncan


chasity & Anthony Ezzolo


Lesley, Natalia & Isabella


Kathleen


ray bliss


Marta
Messages for Nadine
taneisha
i hope she be happy and resting in peace

---

Damian
WE LOVE YOU ALWAYS

---

Webmor DK
May you rest in peace. You are safe now - ind the Hands of GOD!

---

ladyexplosive
R.I.P little angel

---

~DEZ~
R.I.P BABY GIRL!!!

---

grandma Kathy
I would like you to be my grandbaby.

---

Gina, Bruce, Michael & Aaron Nichols
It is a sad day when a mother or father can kill thier own
child, life is so precious and should be to everyone. I lost my brother
who was only 25, Jan. 16, 2004 to an accidental overdose and it has been
so hard for the whole family, I couldn't imagine killing or even
hurting my children. May God look down and touch each and every one of us and
help us to be the best parents and people we can be.....God Bless you sweetheart....

---

Alana Charisse
May God keep her close to him

---

Jessica Fagan
Sleep with the angels precious one.

---

Karen Champion N.S. Canada
May your precious soul rest in peace, little one.

---

suzanne thibblin
In heaven no one will call you an it anymore.

---

Allison Elizabeth
You will live on in our hearts.

---

Please feel free to place this angel on your web page
or in your email, so that others may find their way
here and adopt a guardian angel.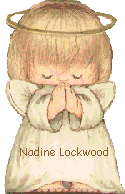 Please accept this gift for remembering her


Please adopt a guardian angel for Nadine ,
Just fill out the form


Thank you for caring and remembering