Adopt a Guardian angel for
Jessica

anna nyström


Melissa


AnnMarie Abrantes


Diana


Desiree


dede


Ann Mari


Alissa


Jenny


Kandie


Kim Schall


Lady Leppard


loretta pruitt


Melinda


Marybeth


Pernilla Erlandsson


Ree Burton


Sari


Tina and Baby Jessica Deschambault


Turid


Annie


shelly clarke-harvey


Lori Roberts


LINDALULU


KaseyLeigh


christine


Amanda H.


Tara


Jessica Miranda.N.
Necsa Comercial S.A


Thomas and Kyra Longhway


angelina-family


Linda


christi gilbert


Eva Tudela


Amy


Kathleen


Heather


jade and claye


stacie demetopoulos


April King


Jessica Markenhorn


Therese, Alexander; Robin. Max,Johan


Candace & Samantha


Karen Champion N.S. Canada


Ashten Folker


Evette


katrina


Deanna Goh Sue Xhien


jennifer cj and brenda


lauren


Mimi Mala


Webmor DK


faith
Messages for Jessica
Amy
I feel so sad that people these days can be so cruel to babies
that cant defend themselves.

---

jade and claye
rest in peace

---

Karen Champion N.S. Canada
The Lord will avenge thee. Precious baby, may your soul rest
in peace. You are sadly mourned beloved one.

---

Evette
God bless you precious baby

---

Mimi Mala
Makes no sence!! There is a place for people like dis! Jessica
u r truely an Angel and a soilder. God Bless..Amen

---

Webmor DK
May you rest in peace - safe in the hands of GOD!

---

Please feel free to place this angel on your web page
or in your email, so that others may find their way
here and adopt a guardian angel.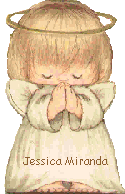 Please accept this gift for remembering her

Please adopt a guardian angel for the Jessica,
Just fill out the form


Thank you for caring and remembering