Adopt a Guardian angel for
The McGill Children

NewRock


Betty ,Tony,Alan Gann & Krissi Loveless


bethann smith


Caryl


Christine Stires


Claude Courvoisier


DIANNA BRIDGEN


Ginger


Gayle


Helen


Heather


Hoa


INDY DURHAM


Judy


Kim


Lisa


Robynn Stanislowski


Vee


Michelle Henson


Annie


Helen Collier


shelly clarke-harvey


cheryl


Lori Roberts


LINDALULU


ruby murphy


Caitlin


KaseyLeigh


Tommy,Patty
Robin,Ronnie
Richie,& Susan


Leah Seslar


angelina-family


Thomas and Kyra Longhway


christi gilbert


some1 who cares


eve


Tammy


Gregg and Elizabeth Sturm


Sirikit , Jon , & Nathan


Kathleen


JADE AND CLAYE


stacie demetropoulos


Allison Elizabeth


Cristen Maxwell


Lisa Chavez


Suzanne Thibblin


Therese, Alexander; Robin. Max, Johan


Candace & Samantha


Karen Champion N.S. Canada


katrina


jennifer cj and brenda


athina beazer


Mimi Mala


RICHARD GASKIN


Webmor DK


Jean Hinson


faith
Messages fpr the McGill Children
Sirikit , Jon , & Nathan
we love children very much and it really melts our hearts to
see these lil angels suffer. God bless you for having this kind of
adoption, i will put this angel on my webpage.thanks...

---

JADE AND CLAYE
RIP

---

Allison Elizabeth
God hears your cries and cares for you, even when others do
not. Kory, Cissy, and Colby are all neighbors now.

---

Karen Champion N.S. Canada
The Lord will avenge thee. Those who harm the innocent will be
punished on Judgement day. May all of your precious souls rest in peace
little angels. You are sadly mourned, and will be remembered.

---

Mimi Mala
Wow! Not guilty! Makes no sence!! There is a place for people
like dis! Mcgill Children u r truely an Angel and a soilder. God
Bless..Amen

---

RICHARD GASKIN
COLBY GASKIN WAS MY SON IT WAS NICE TO SEE YOUR WEB SITE

---

Webmor DK
May all of you rest in peace. You are safe now in the hands of GOD!

---

Jean Hinson
These were my precious grandchildren. Thank you for
remembering them.

---

Please feel free to place this angel on your web page
or in your email, so that others may find their way
here and adopt a guardian angel.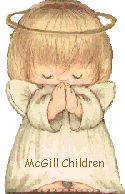 Please accept this gift for remembering them





Please adopt a guardian angel for the Mcgill Children
Just fill out the form


Thank you for caring and remembering