Adopt a Guardian angel for
Kelsey
| | | | | |
| --- | --- | --- | --- | --- |
| anna nyström | britney | Rebecca Jordan | camilla lindberg | kanita |
| Becky * E1D | steve | sabina mugford | BeeJay | Laura Perez |
| Alica Bock | Thomas Griffin AKA Dr.Love | nicki | Genisis | Fernando Fantini |
| Engela Schwarz | Ashley | tinka griffin | Crystal | Denise Giasson |
| valeria | D. k .Darling-Williams | julie | Gloria J | Debi |
| Jackie | Agneta Olofsson | Alba | Brooke | nicole |
| Amy | Andrea Jennifer | Ashlea | Brenda & Frank | Bonnita |
| Betty Green | Brianna Gonzales | Carie | Claudia | Cris |
| Chrisy Scott | Cristina | Charlotte Werling | Diane | Dondi |
| Diana | Denzil | Debbie | Debbe Hankey | dede |
| Annie | Ally | Alicia | Alison | Barbara |
| Carol | Gillian | Gloria J | Glenda | Heather |
| Jenny | Jenny | Jane | Julee | June Brabandt |
| Kim | Kim Nagle | La Princesa | Leah | Layne |
| Lisa | lele serrano | Lionheart | Linda Smith | laurie |
| Mistye | Melody | Ma Muffet | Mystic | Michelle Bretzing |
| Maria Sunnebjer | Mariann | melissa | michelle | Pamela |
| Pamela | Rainbow | Rachel | Roberta Youngs | Silver Linings |
| Sharon | Sidney | Samantha Montalvo | Sarah Marshall | Starla |
| sylvia davison | Tina | Tracy | Tammi & Diana | Tara |
| Tina Persons | Alex Trivenhold | shelly clarke-harvey | Amy Grubbe | Lori Roberts |
| TERESA BELKEN | sarah | Caitlin | KaseyLeigh | LINDALULU |
| christine | TRINITY | Nesa | Thomas and Kyra Longhway | Shannon Taylor |
| angelina-family | kimberlykiser | Becky Wilson | Giselle | christi gilbert |
| Wendy Whitney | Vera Elder | Sandy | Silly | Kathleen |
| Zoe | Kristy Cleveland | JADE AND CLAYE | stacie demetropoulos | Allison Elizabeth |
| Rebecca Harden | Kim | Tashina | Patty | Therese, Alexander; Robin. Max, Johan |
| Candace & Samantha | Karen Champion N.S. Canada | Ashten Folker | katrina | Brenda McKinney |
| jennifer cj and brenda | Mimi Mala | Webmor DK | Danielle Kilbourne` | Kelsey Love |
| faith | | | | |
Messages for Kelsey
Zoe
Be reborn into love, happiness, and the root of happiness. All my best.

---

JADE AND CLAYE
RIP

---

Allison Elizabeth
Fear not, perfect little angel. I love you and Jesus loves you.

---

Kim
Sleep tight little angel

---

Tashina
How darn sad.

---

Karen Champion N.S. Canada
You are sadly mourned little angel. May your soul rest in
peace beloved child.

---

Mimi Mala
Makes no sence!! There is a place for people like dis! Kelsey
u r truely an Angel and a soilder. God Bless..Amen

---

Webmor DK
May you rest in peace - safely in the hands of GOD!

---

Kelsey Love
Hi Kelsey in heaven we share the same name! I will make sure
to say hello to you every time I pray.

---

Please feel free to place this angel on your web page
or in your email, so that others may find their way
here and adopt a guardian angel.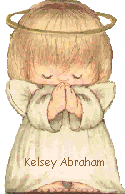 Please accept this gift for remembering her





Please adopt a guardian angel for Kelsey
Just fill out the form


Thank you for caring and remembering