Adopt a Guardian angel for
Jordan

Twiggs xxx


jessi


Carol Miranda


julie johnson


Lucas Baunsgaard


Lorie Norris


Melanie


Hope Peterson


Christila Norton


Gin


AnnMarie Abrantes


AngelSearch


Carmen George


chichi


Alissa


Lisa


Laura


Lynn


Lisa


Mary Ellen & Ej


Nicole


Purple Wolfe


Prince Tochy


Silly


Tina and Baby Jessica Deschambault


Felicia Heden


Annie


Paul, Michelle
Ashliegh & Jaydon


a.j.


shelly clarke-harvey


Michelle Aragon


Ani Walklin


Jacqui


Carol Miranda


Rod & Cheryl Word & Becky Hughes


LISETTE BERGH


KaseyLeigh


Melanie and baby boy Zacharie


LINDALULU


Theresa McMAHON


Lisa Dakin


christine


Tommy & Patty


Andrew And Tammy Bowen


Sarah, Michael, Joseph and baby Jaycob


Michele, Ashlee and Kaylee Daniel


Donna Townsend


Malea, Tommy, and Dillon


Carrie, Mike, and our baby Michael Louis


Amanda H.


Tara
(Greenville, SC)


Thomas and Kyra Longhway


Leah Seslar


margaret and paul kasperski


Michael and Brandi Shropshire


angelina-family


Zoie Clark


On behalf of the late Calvin John Cooks II who lived each day to protect children


Stormie


christi gilbert


Wendy Morreale


Tabitha


Elizabeth Johnson


Kathleen


Heather


Kaye and Kiri Matteson


Ann


Sonia ****


marie


marie Gilpin


Geri Cadieux


stacie demetropoulos


Allison Elizabeth


Rebecca Harden


Maja


April King


Adriana Lim


Jessica Markenhorn


suzanne thibblin


Maria Lang


Charelene and little Tyrell


Therese, Alexander; Robin. Max,Johan


Virginia Lara


Candace & Samantha


Amber and Jaeden


courtney


claribel morales


Karen Champion N.S. Canada


Erica


Ashten Folker


Susan Flippin


Emily


Gina Nichols


Evette


katrina


JENNIFER DUNHAM


jennifer and cj


debbie jackson


nickala


no name given


Mimi Mala


Webmor DK


carla


faith


Janis Shedd


The Murvine Family


Alexanderia


Ann
Messages for Jordan
Donna Townsend
on behalf of my daughter Emma Louise who was still born
and taken from me before I could hold her

---

Tabitha
I hope that you are now at peace and resting in our Heavenly
Fathers care. Bless you little one. My heart aches at the thought of
what you went through.

---

Kaye and Kiri Matteson
No one at 22 can claim they didn't know, Jordan we wish we
could have been there to stop this!!

---

Sonia ****
im sorry

---

marie Gilpin
i cant believe a mother would do that

---

Allison Elizabeth
You will be protected and loved by our Heavenly Father. You
will never hurt again and you will never be hungry again. Jordan, I am so
sorry. My heart breaks for you. My prayers are with you and those who love you.

---

Adriana Lim
My late son is called Jordan too.... he left us not because he
not being loved...he died of prematured lungs deveolment and other
health problems which caused by being born on 30th week. He left behind en
elder sister and twin brother. He in loving memory in all of us now
and as we love our children so much, how can anyone on earth do this to a little angel??

---

Charelene and little Tyrell
God Bless you, it is so sad to see these things happen, your
better off now little one

---

Amber and Jaeden
This is very sad! I have an 11 1/2 month old son and i don't
see how someone could not tell if there child was starving!!

---

courtney
on behalf of all the little kids out there that dont have
enough food to eat

---

claribel morales
was the mother stupid or what i mean she must have gotten some
schooling even my 8yr old knows how to prepare formula

---

Karen Champion N.S. Canada
The Lord will avenge thee. Little Jordan, you will always be
remembered little angel, and sadly mourned. May your soul rest in peace,
and be forever loved amongst the angels.

---

Susan Flippin
God bless this poor baby.

---

Gina Nichols
I also had my first child at age 16 and see no reason for this
poor child starving to death, she could have asked for help.......God
Bless you sweet angel..

---

Evette
Sweet baby Jordan you are in the Lord's arms where there is no suffering.

---

jennifer and cj
rest in peace little one!!

---

debbie jackson
oh Lord, please watch over this sweet gift, and let him no pain no longer.

---

no name given
I agree with the last comment, I was taken away from my
natural mother because I was starved and neglected almost to death.....I then
many years later had my own children, 2 to be exact, and I was 18 when
I had my first. I knew when to feed and there were programs and people
who educated me.. in the hospital. I didn't have to pay a dime....and
my children are 10 and 11 now, healthy mentally and physically....there
is no excuse..that photo I see of that poor baby is for many to take
shame on.....not just the mother.

---

Mimi Mala
Wow!!! sick a-- lady!Makes no sence!! There is a place for
people like dis! Jordan u r truely an Angel and a soilder. God Bless..Amen

---

Webmor DK
May you sweet little innocent baby rest in peace. You are safe
now, in the hands of GOD!!

---

Janis Shedd
I am so DISGUSTED by this mother's negligence and excuses for
her child's starvation death! I had my son and 19 as well, and he is 6
years old today, healthy and happy. That is no excuse

---

The Murvine Family
You are loved little guy.

---

Ann
How can a mother not know when her baby is hungry?....
Rest in peace little Jordan.

---

Please feel free to place this angel on your web page
or in your email, so that others may find their way
here and adopt a guardian angel.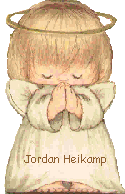 Please accept this gift for remembering him

Please adopt a guardian angel for Jordan
Just fill out the form


Thank you for caring and remembering