Adopt a Guardian angel for
Jessica
| | | | | |
| --- | --- | --- | --- | --- |
| Amanda | Alissa | Alicia | Andrea Ramirez | EVELYN |
| Johanna | Julie K Johnson | Kellie Beerworth | Kellie | Linda |
| Liticia Lister | Paula | Ricki Lynn | Susan Kathryn | MARY A. LOAYZA |
| Annie | stephanie tucker | carolland | Lori | Eva Carlsson |
| Amy | shelly clarke-harvey | Lori Roberts | MARY AND CHRIS JONES | Chris |
| LINDALULU | KaseyLeigh | mandy,paul,michael and adam | Jennifer Martzall | Lauren, Momma 2 Emma |
| Lori Siegel | Erica DeRosa | Kim | Angela | ~W |
| christine | Karen Edwards | Amanda H. | April King | angelina |
| Lori Sherry | Thomas and Kyra Longhway | christi gilbert | Randi Mack | Jordan H. |
| Kathleen | Heather | Sarah | Lena Segerstr?m | jade claye and sharon duncan |
| stacie demetropoulos | CherBear | Amy Hughes | Allison Elizabeth | Eva-Carina |
| Cristen Maxwell | crystal_74 | Camilla | Therese, Alexander; Robin. Max, Johan | Candace Parton |
| Kim Gray | Karen Champion N.S. Canada | Tori | shawnqel | Jessica Fagan |
| Alana Charisse | katrina | Randi | ~DEZ~ | Christie |
| Webmor DK | Faith Amato | taneisha | lissy padron | |
Messages for Jessica
Randi Mack
I LOVE YOU!!

---

Jordan H.
This is a terrible tragety. I am currently writing an essay
on how the Plea Bargaining system gives to lenient of sentences and this
is one of the cases that I came across

---

Heather
im sorry to hear that

---

Sarah
i am sorry

---

Allison Elizabeth
You are no longer alone.

---

Eva-Carina
i hope the angels take care of you and many hugs every day..

---

Karen Champion N.S. Canada
May your beautiful soul rest in peace.

---

Tori
Many of those guilty of their horrible crimes deserve harsher
punishments than that of which they received.

---

shawnqel
R.I.P god bless

---

Jessica Fagan
"Jesus, Here's another child to hold." Ray Boltz

---

Alana Charisse
May God keep her close to him

---

Christie
I think this site is beautiful...I lost a cousin when he was
seven to haert failure...so reading about kids who died from abuse is
really hard. I just want to say thank u so much for remembering them...

---

Webmor DK
May you rest in peace. Safely in the hands of GOD.

---

taneisha
love and rest in peace

---

Please feel free to place this angel on your web page
or in your email, so that others may find their way
here and adopt a guardian angel.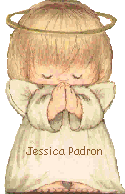 Please accept this gift for remembering her

Please adopt a guardian angel for Jessica ,
Just fill out the form


Thank you for caring and remembering