Adopt a Guardian angel for
Jeffrey
| | | | | |
| --- | --- | --- | --- | --- |
| Anita | ANGELA GARRETT | Carol Miranda | Chloe Holland | Vickie Louallen |
| Amy | shelly clarke-harvey | Lori Roberts | Annie | LINDALULU |
| KaseyLeigh | Karen Dukes | chellie | Erica DeRosa | Kim |
| Tommy & Patty Taunton | ~W | Wendy Laur | Jennifer Martzall | mandy,paul,michael and adam |
| christine | donald and patricia heyen | Ashley | Leah Naomi Kalahiki | Karen Edwards |
| Amanda H. | Caitlin | C. W. Huber | Margaret & Paul Kasperski | Chandler L. Huber |
| April King | Jasmine,Alicia and Elias | Lori Sherry | MELISSA WALKER | Thomas and Kyra Longhway |
| angelina | Kurstin R. Huber | Leah Seslar | Precious Rodriguez | Anita |
| Kattis | Julie K Johnson | Heather | christi gilbert | Liticia Lister |
| Shanna | Tina | Traci Donahue | Kathleen | jade claye and sharon |
| stacie demetropoulos | Rebecca Harden | crystal_74 | janine brian rob teiylea meliyah justyce dickerson | Camilla |
| Therese, Alexander; Robin. Max,Johan | Kim Gray | Jessica Fagan | kate | Crystal Herrera |
| Randi | Hazel | Christie | Webmor DK | faith |
Messages for Jeffrey
jade claye and sharon
rest in peace

---

janine brian rob teiylea meliyah justyce dickerson
rest in peace baby

---

Jessica Fagan
I am so sorry little one.

---

Crystal Herrera
Your story will live forever in my heart

---

Hazel
Sleep tight little angel xx

---

Webmor DK
May you rest in peace - you are safe now in Gods hands!!!

---

Please feel free to place this angel on your web page
or in your email, so that others may find their way
here and adopt a guardian angel.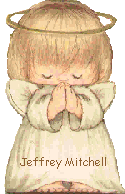 Please accept this gift for remembering him


Please adopt a guardian angel for Jeffrey,
Just fill out the form


Thank you for caring and remembering