Adopt a Guardian angel for
Jalliyah
| | | | | |
| --- | --- | --- | --- | --- |
| Chloe Holland | Stephanie Thorne | Linda Westerlund | Allyson Eickmeier | Breezy |
| D^Andra | Allison | Ally | Eydie | Joanna |
| Kalima | Lisa | Liticia Lister | Marybeth | Pat |
| Tabatha | Tara | Tabatha | PASCALE | ABBEY AND JODY |
| Megan S. | Michelle | shelly clarke-harvey | Amy | Lori Roberts |
| MARY AND CHRIS JONES | Annie | LINDALULU | Erica DeRosa | KaseyLeigh |
| christine | Keesha | anne - australia | Amanda H. | April King |
| Leah Seslar | angelina-family | Thomas and Kyra Longhway | Margaret and Paul Kasperski | lyndsey mobbs |
| christi gilbert | Brittany Diane and Greyson Delaney | Miranda Madison and Brain Thompson | Kathleen | Heather |
| jade and claye | stacie demetropoulos | Rebecca Harden | Lisa Chavez | Therese, Alexander; Robin. Max,Johan |
| Candace, Toni, & Samantha | Kim Gray | Karen Champion N.S. Canada | Emily | Alana Charisse |
| katrina | Randi | jennifer and cj thomas | Julia Tramantano* | Mimi Mala |
| Webmor Dk | faith | Fawn Kosiancic | | |
Messages for Jalliyah
Margaret and Paul Kasperski
Jalliyah you are a perfect little angel now

---

Miranda Madison and Brain Thompson
Jalliyah, so young and so pure, such a awful thing for you to
endure.. Your in a better place within the beauty of god place loving
arms he wraps you tight and never again will you have to endure that
kind of fight. keeping you in heart always.

---

jade and claye
rest in peace

---

Karen Champion N.S. Canada
You are mourned little angel. May god rest your soul in peace darling.

---

Emily
God rest your soul dear child.

---

Alana Charisse
May God keep her close to him

---

Mimi Mala
Makes no sence!! There is a place for people like dis!
Jalliyah u r truely an Angel and a soilder. God Bless..Amen

---

Webmor Dk
May you rest in peace. Safe now in the hands of GOD.

---

Fawn Kosiancic
God bless you. You are safe now in loving arms.

---

Please feel free to place this angel on your web page
or in your email, so that others may find their way
here and adopt a guardian angel.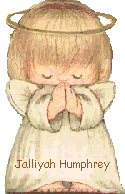 Please accept this gift for remembering her




Please adopt a guardian angel for Jalliyah ,
Just fill out the form


Thank you for caring and remembering