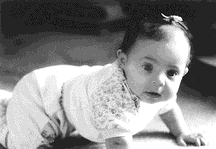 When little Francine's body was found on a sprawling ranch, it was first thought that she was a doll that had been burned, covered by bits of a red, white and blue baby
outfit. She sat upright with stiff arms outstretched towards the sky, till the rancher who found her took a pen and touched her shiny blackened face, the skin gave and fluids leaked out.
It was October 9,1990.
It would take six years before anybody
knew her name or anything about her.
Little Francis was born to James and Lillian Meegan,
but they did not want her, they had three other children. When Francine was born Lillian gave her to friends,
Valerie and Dennis Jensen. A few days after she gave Francine to them Lillian, wanted her back, but Dennis talked her out of it. The Jensen's gave James $1000. in cash, and bought him a new car, they also agreed to make a down payment on a house for them.
Well the tab was up to $30,000 and climbing, and the Jensen's refused to give any more money. On September 10, 1990 Francine was 9 months old, happy and loved.
On that night the Meegan's went to the Jensen's and demanded Francine back, telling them that if they did not give her back, that they would know what it was like to lose one of their children. Tearfully the Jensen's gave Francine back to them,
well James resented Francine being there, he was out of work again, nursing a broken bone. Francine had been crying so he grabbed her by the neck and shook her, she started
gasping having difficulty breathing. Lillian tried CPR and James tried tickling her to get her to respond. Francine didn't die quickly ,hours went by as day broke , she finally stopped breathing. Lillian then dressed Francine warmly, then they placed her in a
suitcase and put the suitcase in the trunk of their car. Then they drove down a dirt road. Lillian then took the baby from the suitcase and handed her to James. He sat her body
down and poured gasoline over her body and lit a match.
Lillian pleaded guilty to felony child abuse & James' trial is yet to begin, prosecutors
will seek the death penalty.
UPDATE:....James has received a life in prison sentence.
Lillian was sentenced to 18 years
Please adopt a guardian angel for Francine
click on the angel


Or you can light a candle