Adopt a Guardian angel for
Clayton & Olivia



| | | | | |
| --- | --- | --- | --- | --- |
| Anette | Erik Sundberg | Alison | Lisa Dunn | Marissa |
| Maritha | Mystic | Maja | Michelle Bretzing | R. Hooker |
| Stephanie | Silly | Annie | Paul, Michelle, Ashliegh & Jaydon | ABBEY AND JODY |
| shelly clarke-harvey | Lori Roberts | LINDALULU | Sarah | KaseyLeigh |
| christine | Caitlin | Erica DeRosa | Kerry and Kevin | Olivia Jane Hopkins |
| Chris, Missi & Ethan S | Amanda H. | Chandler L Huber | Kurstin R Huber | Thomas and Kyra Longhway |
| Leah Seslar | margaret and paul kasperski | Angela Sellars | angelina-family | Stormie |
| christi gilbert | Kathleen | Kristen Dorr | stacie demetropoulos | Allison Elizabeth |
| Ashley | April king | linda and amanda | Therese, Alexander; Robin. Max, Johan | Candace & Samantha |
| Karen Champion N.S. Canada | Ashten Folker | Rachelle | Evette | Erica N. Strickland and Liam McElhattan |
| katrina | jennifer and cj | kirsty | Alison, Lee & Dylan | wahiba |
| Mimi Mala | Webmor DK | faith | Claire | |
Messages for Clayton & Olivia
Allison Elizabeth
Blessings on you, Clayton and Olivia, and all those who loved you.

---

Leah Seslar
Rest in Peace

---

Karen Champion N.S. Canada
You are sadly mourned, beloved ones. May god rest your
precious souls. You will be remembered for always. Be at peace.

---

Rachelle
Precious Angels

---

Evette
God bless you little ones

---

wahiba
hey sweethert
heres my guardian angel for you! :)

---

Mimi Mala
Wow!!!Makes no sence!! There is a place for people like dis!
Clayton & Olivia u r truely Angels and a soilder. God Bless..Amen

---

Webmor DK
May you both rest in peace. Safe in the hands of GOD!

---

Please feel free to place this angel on your web page
or in your email, so that others may find their way
here and adopt a guardian angel.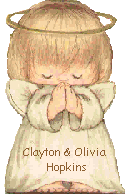 Please accept this gift for remembering them

Please adopt a guardian angel for Clayton & Olivia,
Just fill out the form