Adopt a Guardian angel for
Greyson
| | | | | |
| --- | --- | --- | --- | --- |
| caring sister in Norway | Salina Sipes | Syra Duran | Chloe Holland | MARY |
| Andrea Ramirez | Buffy Ibach | Cyndie | Christel | Barbara |
| John & Lori | judy waskey | Kathy | Kathie & Mike Cronin | Leah |
| Liticia Lister | Mary Ellen & Ej | Mary | Mystic | Melissa |
| Silly | Sherry | Tammi & Diana | Tami | ABBEY AND JODY |
| Megan S | shelly clarke-harvey | Amy | Lori Roberts | Annie |
| LINDALULU | Erica DeRosa | mandy,paul,michael and adam | Kerry and Kevin | christine |
| KaseyLeigh | Allison Russo | Karen Edwards | Chris, Missi & Ethan S | Tyler, Lanie, and Jenna |
| Adrian | angelina-family | Anne - Australia | Amanda H. | April King |
| lyndsey,naomi and felicity-mae | Thomas and Kyra Longhway | kathleen | scott wallace | christi gilbert |
| Brittany Diane Johnson and Greyson Delaney Jarratt | Thompon Family | Kathleen | Heather | stacie demetropoulos |
| Lorie A. Crader-Borgards | crystal_74 | linda and amanda | Bev Thopmas | AP |
| Therese, Alexander; Robin. Max,Johan | Candace & Toni | Carmen | Bev Woodhead | Kim Gray |
| Karen Champion N.S. Canada | Ashten Folker | Kate | Angie Crosswhite | Alana Charisse |
| katrina | Greg Edge, Erin Benson, and Greyson Edge | Debbie Ray | Randi | jennifer and cj thomas |
| KRISTY LOGAN | Julia Tramantano* | Mimi Mala | Webmor DK | faith |
| The Murvine Family | | | | |
Messages for Greyson
Lorie A. Crader-Borgards
I have a 3 month old son that I named Greyson Rey

---

AP
You are not forgotten

---

Bev Woodhead
Welcome home little one

---

Karen Champion N.S. Canada
You are mourned, beloved angel. May god rest your precious soul in peace.

---

Ashten Folker
I feel so bad for the family members of Greyson's. I couldn't
even imagine what it feels like to loose a special little baby,like
Greyson.I wish you all the best,and i'm sorry for your loss.

---

Angie Crosswhite
God Bless you little Angel!

---

Alana Charisse
May God keep him close to him

---

Debbie Ray
My heart aches for the little life that was taken.

---

KRISTY LOGAN
I WILL NEVER UNDERSTAND HOW SUCH A BEUTIFUL LITTLE ANGEL IS
GONE. GOD HELP US ALL THAT WE EVEN NEED THIS WEB SITE, BUT I THANK YOU
FOR IT, ALL THESE CHILDREN NEED TO BE REMEMBERED AND CHERISHED.

---

Mimi Mala
Makes no sence!! There is a place for people like dis! Greyson
u r truely an Angel and a soilder. God Bless..Amen

---

Webmor DK
May you rest in peace, sweet little angel. Safe in the hands of GOD.

---

The Murvine Family
Sleep Sweet little guy.

---

Please feel free to place this angel on your web page
or in your email, so that others may find their way
here and adopt a guardian angel.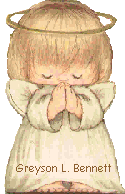 Please accept this gift for remembering him




Please adopt a guardian angel for Greyson,
Just fill out the form


Thank you for caring and remembering