Adopt a Guardian angel for
Alexander



| | | | | |
| --- | --- | --- | --- | --- |
| Carol Miranda | Desert Moon | Angela | Glyn Fletcher | Judy |
| Johanna Alvinsson Larsson | Kim | Kevin´s sida | Maureen | Silly |
| Trish | shelly clarke-harvey | Lori Roberts | LINDALULU | KaseyLeigh |
| C. W. Huber | Chandler L. Huber | Kurstin R. Huber | Thomas and Kyra Longhway | angelina-family |
| Linda | christi gilbert | Anja | Claire Howard | Kathleen |
| Gabriela | Aurora Miranda | Allison Elizabeth | Suzanne Thibblin | Therese, Alexander; Robin. Max, Johan |
| Candace & Samantha | Jennie Holtslag | Brianne Allison | william l shattuck | tori |
| katrina | mary a. tobin | Autumn,Bethann, Jason Dun | Webmor DK | faith |
Messages for Alexander
Anja
Your in our hearts, Alexander

---

Claire Howard
bless you

---

Allison Elizabeth
Dear little Alexander, I will never understand how your mother
could abandon you like that. You are now a precious little angel, but
you were always precious to me.

---

Jennie Holtslag
God Bless You, Baby Alexander

---

william l shattuck
may all children be blessed and watched over. so that things
like this do not happen. this i pray. amen.

---

Webmor DK
May you rest in peace, safe in the hands of God!

---

Please feel free to place this angel on your web page
or in your email, so that others may find their way
here and adopt a guardian angel.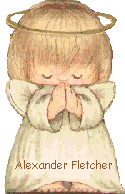 Please accept this gift for remembering him

Please adopt a guardian angel for Alexander
Just fill out the form