Adopt a Guardian angel for
Elisa

Shelia Wilson


Louise


Elaine & Brianna


Mahsa


Jan Carney


Elizabeth


Anonymous


Madeline Dixon


Cathy Bowen


Marja Emanuelson


Annie Hundley


Breezy


Breezy Bowman


Christine


Carol Miranda


Donna, Benjamin & Sheena


Denise


Elissa


Ally


Alison


Gloria


Joanna


Jammie


Kathy "Sue"


kristie lusk


La Princesa


Lynnette


LISA W


Leah Maberry


Liticia Lister


Marybeth


Melissa


marlen,sara and little marlen


MARYKATE


Pat


Stephanie


Stephen Joeseph Jameson


Wendy


Brittany Mills


JODY HALE


Kim Gray


Annie


Anna Nilsson


April and Brandon Boyles


Paul, Michelle
Ashliegh & Jaydon


Annelie Söderholm


Megan S


Diane Bishop


Sussi


Katie


Shannon Robertson


Belinda & Caris


Yvonne W Eriksson


Serena & Haylee


Michelle Aragon


shelly clarke-harvey


Amy


Lori Roberts


Valarie


LINDALULU


Shelbie Johnston


Rachel Cope


mandy,paul,michael and adam


KaseyLeigh


Karen Dukes


Sharon D. Novander


DJ and Skylar


Caitlin


Jennifer Martzall


Lori Siegel


Erica DeRosa


christine


~W


Caroline Nichol


Wendy Laur


Thomas & Patricia


Kerry and Kevin


tracy


siobhan


donald and patricia heyen


Shane, Kelli, Sami, Cody, Alyssa, Meagan


Amanda and Joshua Terblans, South Africa


The Thompson Family
Jayson, Ivy, & Christian


Chris, Missi & Ethan S


anne - australia
so unfair


Amanda H.


April King


Thomas and Kyra Longhway


Margaret and Paul Kasperski


The Puckett Family


Leah Seslar


Andrea


Mary & Bobe


Sophia J. Lugg


kellie lentz


angelina-


FAMILIA ARRAMBIDE ALDAPE


Liisa Lehtonen


Salwa Ali


Xiomara Lopez


Allison


ELIONOR,AHLIN


christi gilbert


John & Lori


Starlin


XERENA MARTINEZ


Candace Davis


Julie and Jon B.


Anita.Mandi.Becca


stacie demetropoulos


Roxanne Arain


Christina Williams


Olivia Carcare'


Jessica Ashley


Kristin


Amy Hughes


Angel Faith Mayne


Lisa Hoff and her princess Katie Rose


Allison Elizabeth


Rebecca Harden


Odalys Rodriguez


Lisa Chavez


Yahaira Almeida


Suzanne Thibblin


Therese, Alexander; Robin. Max, Johan


Natalie McCullough


danni and eloise


Tausha and Brooke


the littles


Denise Moreau


Marisol Rodriguez


Karen Champion N.S. Canada


Hannah


Jessica Fagan


Elisa F Campbell


Raissa and John cummings


Maureen Malloy


Kristen Brotzman


Devin Grimm


sarah m.


Sara


Alana Charisse


Colleen Miller


katrina


anja,larissa and cilinio


Hydah Walker


Mari Jo


jennifer and cj thomas


Marta


Naima


athina beazer


Nicky P


Ida, Sweden


kaylee, kim,ed,and brittney


Alex


Amanda Johnson


Amber and family


jasmin


taliba


Julianna Caldeira


Monique & Sacara Thomas (Sister's), Vanna Wynkope-Thomas


Stephanie Phung


Julia Tramantano*


Mimi Mala


Webmor DK


megan brooks


Allison Huntington


faith


Vernisha Cecelia Roberts


sylvia


The Murvine Family


Alexanderia


ileen estevez
Messages for Elisa
The Thompson Family Jayson, Ivy, & Christian
We will never forget

---

Margaret and Paul Kasperski
our prayers are with you Elisa

---

May she finally find the happiness a child deserves

---

angelina-
Elisa god's special angel

---

XERENA MARTINEZ
WE MISS YOU! REST IN PEACE WITH THE ANGELS

---

Anita.Mandi.Becca
so sad but at least shes with God and he will never let her be hurt again.
people like her parents and others who do this should be fixed the hard
way so they cant make any more innocent babies

---

Christina Williams
You will always be loved Elisa

---

Olivia Carcare'
Bless you little one

---

Jessica Ashley
God Bless you Elisa

---

Allison Elizabeth
I'm sure you'll be a wonderful guardian angel.
This isn't very Christian, but your mother was a crazy nut. Now you are
with Jesus, who will care for you the way you deserve.

---

Yahaira Almeida
This tragedy has stayed in my heart since the day i was 9yrs old.

---

Suzanne Thibblin
In heaven there will be no more pain - only love.

---

Natalie McCullough
You were to good for this world sweetheart! God is caring for you now.

---

danni and eloise
i think that it is really nasty.

---

Marisol Rodriguez
Elisa, que tu recuerdo sirva para cada uno de los padres, para
dar amor y respeto a sus hijos

---

Karen Champion N.S. Canada
Those who torture and hurt the innocent will be dealt with in
time. God's vengance is real to those who harm others. May you rest in peace little angel.

---

Jessica Fagan
God bless you and keep you little one.

---

Raissa and John cummings
I just seen the story about you and i feel realy bad i think
you and the kids that had to go though the same thing are in peace with
god and are very happy and are one of the angels today

---

Maureen Malloy
My heart sinks everytime I envision her death. I have been
haunted by Elisa's murder for years. I remember reading an article that
described her as being so beaten, that she simply turned over in her bed,
and breathed out her last breath, having finally just given up. And the
memory of this description has been with me ever since, because I can't
imagine a world where this beautiful gift from God couldn't flourish,
because she had been given to people who were nothing more than demons.
I think of her often, and keep her in my heart. I love you Elisa,
because it takes a soul to know one. God bless you!

---

Kristen Brotzman
i feel so bad that she had to go through all that !!! No child
should have to go through that!

---

Devin Grimm
how can anyone do such a thing ! i could not even imagine
something worse.i wish she was still alive.

---

sarah m.
may you young, beautiful soul rest in pease!

---

Alana Charisse
May God keep her close to him

---

Colleen Miller
that is so horrible :'(

---

Hydah Walker
Some children are too special for this world and have a better
purpose in *HEAVEN*

---

jennifer and cj thomas
bless you little child!!!!!

---

Naima
Elisa has always had a special place in my heart. I am a
cousin of her father. She was everybody's little angel, and we miss her very
much. I only wish that Awilda could have realized what a precious gift
God gave her in her beautiful baby girl, Elisa. She needs to realize
that SHE was the one "possessed by the devil" to have even thought of
doing such monsterous things to that innocent baby. Anyway, I pray for her
to return to sanity and begin to healing and turn from her destructive
ways. All I have to say is that I love you, Elisa, y que puedo reunir
contigo algun dia en nuestro hogar celestial. Adios, nuestra bella angelita.

---

Nicky P
Rest peacefully little girl.

---

kaylee, kim,ed,and brittney
rest in peace your in a better place

---

Alex
I really felt sad that she was abused and hit alot because her
mother thought she was possessed by the devil. I think that was dumb
for her to kill her because she was possessed by the devil.

---

Amanda Johnson
May god hold you in his arms and never let go. RIP sweet angel Elisa

---

Amber and family
All of these stories are breaking my heart, who could not love
any child with the most purest and devoted type of love there is? I
love my children more than anything in this world and it kills me to see
them in any sort of pain, wether emotional or just a boo-boo that I
gladly kiss. I wish wee all could kiss these chldrens boo-boos and they
would wake from a long sleep and be healthy, happy, and loved forever

---

Julianna Caldeira
Rest in Peace Precious
Monique & Sacara Thomas (Sister's), Vanna Wynkope-Thomas
Let's STOP the Abuse NOW with our precious little one.
We LOVE you baby girl.

---

Julia Tramantano*
you will not be forgotten*

---

Mimi Mala
Makes no sence!!! Only God can judge and there is a place for
people like dis! Elisa u r truely an Angel and a solider! God Bless.. Amen

---

Webmor DK
May you rest in peace - you are safe now in Gods hands!!! You sweet little angel...

---

Allison Huntington
It's sad that she died so young and in such a tragic way

---

Vernisha Cecelia Roberts
I love you. Carry on with God, my Angel.

---

sylvia
i think what her mother did to her was awful it brought tears
to my eyes how can any one stand to beat their kid like that

---

The Murvine Family
Sleep Sweet little one.

---

ileen estevez
sleep in peace mamita, jesus is your guardian.

---

Please feel free to place this angel on your web page
or in your email, so that others may find their way
here and adopt a guardian angel.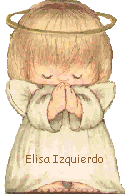 Please accept this gift for remembering her




Please adopt a guardian angel for Elisa,
Just fill out the form


Thank you for caring and remembering