Adopt a Guardian angel for
Ebony Danae Whitfield & Myisha Marcella Tolbert

Melissa Leonard


Myisha H


Sharon


Julie


Cheri


Christine


Carmen George


David & Chris


Donna, Benjamin & Sheena


DIANNA BRIDGEN


Jacquie


Kim


K


KymMaree


Lynda


Melissa


May


Nathalie & Daniela


Purple Wolfe


Penny


Renee


Steve


Silly


Annie


Pryncess Raynna Gilmore


shelly clarke-harvey


Yvonne W Eriksson


Patrice


Lori Roberts


Michelle S


KaseyLeigh


Caitlin


Tommy, Patty Richie,Susan
Robin,Ronnie


debra gerdau, lucas gerdau, and our children brandi,seth and blake


zoe woods


angelina-family


Thomas and Kyra Longhway


christi gilbert


Gail


Amanda


Kathleen


Tasha Tobin


JADE AND CLAYE


stacie demetropoulos


Allison Elizabeth


De'Yawnna Jones


Maja


Suzanne Thibblin


Therese, Alexander; Robin. Max, Johan


Candace & Samantha


Karen Champion N.S. Canada


katrina


Alison, Lee & Dylan


Mimi Mala


Webmor DK


faith


Maria
Messages for Ebony & Myisha
Amanda
We miss you

---

Tasha Tobin
I WISH I COULD HAVE HELPED YOU!R.I.P LITTLE GIRLS

---

JADE AND CLAYE
RIP

---

Allison Elizabeth
I love you girls. Myisha and Ebony, you will be missed and loved.

---

De'Yawnna Jones
I live in the city where this happened. Everyday that I go to
work, I pass by the apartment complex where this happened. And
although the complex has since then been remodeled...their memories will never be forgotten...

---

Karen Champion N.S. Canada
I mourn for you babies. I will remember you two angels. The
Lord will avenge thee. May your darling souls rest in peace and may you
both be cradled in our Lord's beloved arms.

---

Mimi Mala
Makes no sence!! There is a place for people like dis! Ebony &
Myisha u r truely Angels and a soilders. God Bless..Amen

---

Webmor DK
May you both rest in peace. Safely in the hands of GOD!

---

Please feel free to place this angel on your web page
or in your email, so that others may find their way
here and adopt a guardian angel.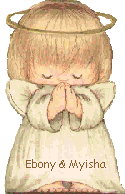 Please accept this gift for remembering them




Please adopt a guardian angel for Ebony Danae & Myisha Marcella
Just fill out the form


Thank you for caring and remembering