Adopt a Guardian angel for
Dessiah



| | | | | |
| --- | --- | --- | --- | --- |
| Elina Westman | Cyndie Gonzales | Angie | Bonnie | Cecilia Remnas |
| Carmen George | Diana Mårtensson | Heather | Kathie & Mike Cronin | Linda |
| LISA W | Lady_Roswell | Liticia Lister | Melissa | Michelle Bretzing |
| Margaret | Nikki | Paula | Stephanie | Sulleira |
| Tina | ABBEY AND JODY | Megan S | shelly clarke-harvey | Amy |
| Lori Roberts | Susanne Håkansson | Annie | LINDALULU | KaseyLeigh |
| mandy,paul,michael and adam | christine | Erica DeRosa | Tommy & Patty | April King |
| Amanda H. | Margaret and Paul Kasperski | angelina-family | Agneta Svensson | anne - australia |
| Thomas and Kyra Longhway | lyndsey mobbs | christi gilbert | Jacquelyn DeCima | Kathie & Mike Cronin |
| Brittany Diane and Greyson Delaney | Trina Charles | Sonika | Trina | VICTORIA FIORILLO |
| Nils | Kathleen | Joëlle Browne | jade cxlaye and sharon | alyssa and stacie demetropoulos |
| one who cares | Ashley | brianna | maayan krolewicz | Therese, Alexander; Robin. Max, Johan |
| Candace, Toni, & Samantha | Gina Nicole Almaraz | Kahless, Manda ,and Their mom | Kim Gray | Karen Champion N.S. Canada |
| Alana Charisse | katrina | Randi | jennifer and cj thomas | nickala |
| Julia Tramantano* | Mimi Mala | Webmor DK | faith | Jessie |
| Tamara and Chloe | | | | |
Messages for Dessiah
Margaret and Paul Kasperski
Dessiah you are a special little angel now

---

Nils
You're in a better place honey. God will keep you safe

---

jade cxlaye and sharon
rest in peace

---

one who cares
may you now know what (TRUE LOVE)really is.

---

Kahless, Manda ,and Their mom
Bless the children one and all.

---

Karen Champion N.S. Canada
May your precious soul rest in peace sweet angel. You are mourned.

---

Alana Charisse
May God keep her close to him

---

Mimi Mala
Makes no sence!! There is a place for people like dis! Dessiah
u r truely an Angel and a soilder. God Bless..Amen

---

Webmor DK
May you rest in peace - little sweet angel. Safe in the hands of God!

---

Jessie
God Bless You!

---

Tamara and Chloe
Will live a better life in heaven with god.

---

Please feel free to place this angel on your web page
or in your email, so that others may find their way
here and adopt a guardian angel.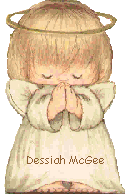 Please accept this gift for remembering her


Please adopt a guardian angel for Dessiah ,
Just fill out the form