Adopt a Guardian angel for
Desi
| | | | | |
| --- | --- | --- | --- | --- |
| Naomi Hollier | Mothers Of Survivors | Rita Teubner | Kirsten Coons | Cathy Bowen |
| Carmen George | Desiray | Alison | judy waskey | Marlene |
| misty angel | marlen,sara and little marlen | Thomas & Lesley | Tina Parmet | Virginia Cowie |
| Yvette | ABBEY AND JODY | Melissa Roberts | Ingela Elfwendahl | Alexandra Struss |
| Yvonne W Eriksson | shelly clarke-harvey | Lori Roberts | CHRIS AND MARY JONES | Annie |
| LINDALULU | KaseyLeigh | Caitlin | Lori Mitchell | christine |
| Erica DeRosa | Starlet Kahinu | Caroline Nichol | Louise | Chris and Dave |
| Chris, Missi & Ethan S | sharon lam | Tyler, Lanie, and Jenna | angelina-family | ANGELA SELLARS |
| Amanda H. | Thomas and Kyra Longhway | The Puckett Family | traci | NICOLE |
| christi gilbert | shavonna bishop | Kathleen | Erin | jade and claye |
| stacie demetropoulos | olite | Allison Elizabeth | Rebecca Harden | crystal_74 |
| janine dickerson and family | Jenny Limayo | Chris and Hayle | Lisa Chavez | April King |
| Suzanne Thibblin | The Miles Family | Therese, Alexander; Robin. Max, Johan | Candace & Samantha | Carmen Anders |
| ASIA | Kim Gray | Karen Champion N.S. Canada | jasmine | Ashten Folker |
| Wanda | Evette | katrina | anja,larissa and cilinio from the netherlands | jennifer and craig thomas |
| Amanda Johnson | Becky - Lou Clarke | ElenaMarie Bryant | wahiba | Mimi Mala |
| Webmor DK | Natalie | Danielle, David, Makayla, Emma & Jonah | lakendra dodson | faith |
| Layla | The Murvine Family | Alexanderia | Natalie | |
Messages for Desi
jade and claye
rest in peace

---

Allison Elizabeth
Good luck on earning your angel wings, Desi.

---

janine dickerson and family
rest with GOD now

---

Chris and Hayle
Rest easy, sweet baby.

---

ASIA
RIP BABY GURL

---

Karen Champion N.S. Canada
The lord will avenge thee. You will be remembered Desi, and
sadly mourned by those who are angry by the unfairness of it all. Rest in
peace beloved child.

---

jasmine
i hope this little girl is happy where she is and i wish her
and the rest of her family the best

---

Evette
Sweet baby you're in the Lord's arms where there is no more pain

---

Amanda Johnson
Little Angel Desi, May you rest in peace,and have the chid
hood you so deserve.

---

wahiba
hey sweety pie
heres 1 more guardian for u!!

---

Mimi Mala
Makes no sence!! There is a place for people like dis! Desi u
r truely an Angel and a soilder. God Bless..Amen

---

Webmor DK
May you rest in peace - safe now in the hands of GOD!

---

Natalie
I will always remember you as a sweet gurl!

---

Layla
OMG... Just for candy too!

---

The Murvine Family
You are loved by many sleep sweet in Gods arms.

---

Natalie
May you RIP babygirl from all the suffering on this Earth

---

Please feel free to place this angel on your web page
or in your email, so that others may find their way
here and adopt a guardian angel.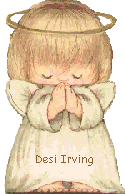 Please accept this gift for remembering her

Please adopt a guardian angel for Desi
Just fill out the form


Thank you for caring and remembering