Adopt a Guardian angel for
Cory
Messages for Cory

Clara Wright
Cory's foster mom for 2 1/2 years

---

Thomas Wright
Cory's Foster Father for 2 1/2 years

---

Leah Seslar
Rest in peace Cory.

---

Jacqueline Clarke
Gentle Jesus up above, please give Cory a great big hug. Rest now little one.

---

Allison Elizabeth
Fear no more, Little Angel. God is with thee.

---

Vivian Evans
I am a daughter of Clara and Thomas Wright. I cannot begin to
describe their heartache. Child abuse must be stopped!

---

Mourner
May God rest his soul!

---

Maddie
No beautiful child like Cory should be ever abused by anyone

---

Cynthia.....
May LIttle Cory laugh, run, and be loved in Heaven
I am sickened by people who hurt innocent small children that
only want ot be loved and included in life and happiness....when will it end?

---

Kahless, Manda ,and their mom
My son is 4 and I took a long look at him after reading this
and all I can ask is how??

---

Karen Champion N.S. Canada
May god rest your precious soul. Amen.

---

Jessica Fagan
It's so easy in a big world like this for the little ones to
slip through the cracks. You will always be remembered.

---

Alana Charisse
May God keep him close to him

---

Gina, Bruce, Michael & Aaron
It is a sad day when a mother or father can kill thier own
child, life is so precious and should be to everyone. I lost my brother
who was only 25, Jan. 16, 2004 to an accidental overdose and it has been
so hard for the whole family, I couldn't imagine killing or even
hurting my children. May God look down and touch each and every one of us and
help us to be the best parents and people we can be.....God Bless you sweetheart....

---

lauren
This was so horrible! I cryed when i read it

---

Cheri
I will hold a special place in my heart for you, for I to was
abused by my adoptive mother.

---

~DEZ~
you are now in the white skies now no one will hear your
cries...because there is peace!!!

---

Monique & Sacara Thomas, Vanna Wynkope-Thomas
May the Abuse stop with here and now with our Vanna. We are
survivors of abuse and we don't ever want want our Daughter/neice Vanna to feel that pain.
We Love You Baby girl

---

melissa
you are free. no more suffering

---

Webmor DK
May you rest in peace. Safely in the Hands of God!

---

Cathy
I wish i could do more then just adopt one of them nw its too
late... sleep with angels lil one

---

Please feel free to place this angel on your web page
or in your email, so that others may find their way
here and adopt a guardian angel.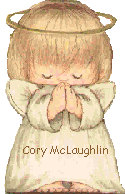 Please accept this gift for remembering him

Please adopt a guardian angel for Cory ,
Just fill out the form