Adopt a Guardian angel for
Charnee
| | | | | |
| --- | --- | --- | --- | --- |
| ANGELA GARRETT | Amanda | Beth | Carol | Charlene |
| Carin Lamberson | Connie Naab | Chy | Caroline Buchanan | Diana Mårtensson |
| Dotty | Denise Roberts | dede | Eve Chilton | Heavenlee |
| Julie K Johnson | Jessica Osgan | Leigha | Linda | Lis Mauro |
| Liticia Lister | Melissa | Mary | Malin & Sebastian | Mary |
| Melissa Newton | Natalie | Paula | Priscilla | Rebecca Lynn Loposser |
| Silly | Sharon | sarah duffus | Tamara | Torunn Silnes |
| Therese Markström | Ylva | Yvonne Larsson | kathleen Tate | Anna-Carin Svensson |
| Sensei Mlidred Auty | Maria | derek gale | Elaine & Brianna | carolyn tillberry |
| chassady frisby | Mary Ann Leppert | Angela | Helen | Brenda Parrish |
| Linda Hovland | darlene | Alissa Bailey | gary | Rosemary molina |
| Melyssa | Bev Rawlings | Nancy Boddie | carol | Molly Ann |
| Annie | Cheri Mayes | darlene | zary | Marlene |
| Jani Lindgren | Anna Nilsson | Helen Collier | Kimberly (Lassss) (LadyRebel) | Marja-Maxin |
| Glee Cole | WANETA BLAND | Jennifer Varner | Jessica Isaksson | Rieny |
| Yvonne W Eriksson | Eva Carlsson | Ani Walklin | shelly clarke-harvey | laura s |
| Lori Roberts | Leanne | Ashley Ness | Mrs. Kinga Maria Malachowska | Mr. Artur Tomas Malachowski |
| Mary | Tricia | Jade Mason | alicia | LINDALULU |
| Lisa Gonzalez | Faye Harmon | nikki soto | KaseyLeigh | LISETTE BERGH |
| cheryl | Lucy and Dennis Peck | Shelly Bueno | mandy,paul,michael and adam | Jeanne Gannott |
| Jennifer Martzall | Lori Higgins | Theresa McMAHON | ~W | Caroline |
| Madeleine Lind | christine | Tommy & Patty Taunton | Erica DeRosa | kim |
| Don, Donna & Nikki | Madeleine Lind | siobhan | angelique | patricia and donald heyen |
| Tina | Dell | Elizabeth | mike and celia bernardi | Keesha |
| Vickie Poidomani | Amanda Hammons | April King | Anne Lazic (Australia) | love, marie |
| Starla Hines | tina marie black | Lori Sherry | Sherrie L. Payne | Thomas and Kyra Longhway |
| Leah Seslar | Tracy Frazier | angelina | taj | Elizabeth Ward |
| Lorna | melissa , tianna,shavonne, tanisha and shakira fowler | ELIONOR,AHLIN | christi gilbert | Al & Ann |
| littlewing | Snyder Ronay | claire | samantha | Brandy and Mark Foust |
| rosemurie,mikey,matt | Wanna | Lynn Hudspeth | Jeanette Gomez | Jeanette and family |
| Keisha | Candace Parton | jessica,bob,danniele and michieal | Dana Stringer | LaTonya McCullough |
| Rebecca | Vanessa & Jacob | Jennie | Patti Shea | Fawn Kosiancic |
| Mandie | angel hardy | Vena | Paula Busby | Webmor DK |
| Ashley | Cindy-Marie Sauve | suzanne | henrietta franken | PATTY |
| jasmine hopkins | Nadine D. Castillo | Janice | Bonnie Engel | Missy Jones |
| Laura Siders | Lisa B.Anderson | kayleigh sykes | katrina | Christopher & Hilary Jacobson |
| Ann D | Ann | cherish | sharon vernon | Alana Charisse |
| Rachelle | Henrikas Balandis | Amanda Long | Crystal Herrera | DONNA HUGHES |
| alisha | Jessica Fagan | Lainey | Shelley Cross | Karen Champion |
| Dacia | Sara Messer | Marie Nilsson | chris wastasecoot | Zoe Taylor |
| Cheni | Kim Gray | Laurie | the littles | sandra felix |
| Lisa valadez | Marta | mra | | |
Messages for Charnae Wise
tina marie black
Dear charnee
you are in my prayers,may god hold you forever in his arms

---

Brandy and Mark Foust
rest in peace sweet girl

---

rosemurie,mikey,matt
godbless this lil angel. she is with the lord and no one could hurt her anymore.

---

Keisha
I will always have you in my heart.

---

Vanessa&JAcob
R.I.P. beautiful..may all youre worries and pain be taken away

---

Fawn Kosiancic
May you be at peace little one now that you are in our Heavenly Father's arms

---

angel hardy
you didn't need to die but in return you will be treated much
better by the lord above!!!

---

Vena
Rest in peace little one

---

Webmor DK
May you rest in peace - safe in Gods hands!

---

Cindy-Marie Sauve
My heart goes out to you, know that you are loved and missed!

---

henrietta franken
she hurts no more

---

Nadine D. Castillo
God Bless you and keep you safe in his arms

---

Janice
Now she is walking streets of gold & is surrounded by love
that never did she feel here on Earth.

---

Missy Jones
May God bless and keep you sweet angel.

---

Laura Siders
Rest in peace little angel, your safe now!!

---

Lisa B.Anderson
Charnee,
You are safe in Heaven with our Heavenly father God.You will never
experience anything hurtful,you are with God.
Your Friend,Lisa B

---

kayleigh sykes
love you loads kayleigh
sxxxxxxxxxxxxxxxxxxxxxxxxxxxxxxxxxxxxxxxxxxxxxxxxxxxxxxxxxxxxxxxxxxxxxxxxxxxxxx

---

Christopher & Hilary Jacobson
We are horrified of such "common" child abuse.. Where was the
other family members, when this child was abused ?? Dear Charnee,We
Love You, & Miss You, All Abused Murdered Children Are Heavens Angels ..

---

Ann D
thinking of you always

---

Ann
I will always have a piece of my heart with you

---

sharon vernon
This child will always be in my thoughts & prayers....

---

Alana Charisse
May God keep him her them close to him

---

Rachelle
Precious Angel

---

Amanda Long
Words cannot express the horror and pain I am feeling upon
reading the events that lead to the loss of this little angel.

---

Crystal Herrera
I will keep you in my heart!

---

Jessica Fagan
You are missed and loved. I am so sorry that this happened to
you little one. Now you are in with the Lord.

---

Shelley Cross
Poor Babygirl Charnee, RIP

---

Karen Champion
May god rest her soul. Amen.

---

Sara Messer
Rest in the Peace of God...

---

chris wastasecoot
you are remembered little one
i know you are with god and happy

---

Zoe Taylor
god bless!! xxxxx

---

Cheni
Your a good child

---

the littles
to a sweet, sweet baby "we" love you.

---

sandra felix
you will be remembered in my heart and i will do something so
this will not happened again

---

Lisa valadez
You are now with Jesus sweet child may God hold you in his
arms and love you the way you deserve.

---

Marta
Rest in peace, sweet baby girl.
You are always in my love, thoughts and prayers

---

mra
You are loved

---

Please feel free to place this angel on your web page
or in your email, so that others may find their way
here and adopt a guardian angel.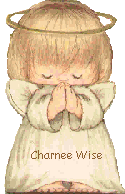 Please accept this gift for remembering her


Please adopt a guardian angel for Charnee,
Thank you for caring and remembering
Just fill out the form