Adopt a Guardian angel for
Brenda
| | | | | |
| --- | --- | --- | --- | --- |
| Arnita Hunt | Jennifer | Amanda | Brandy | Desiri |
| Alison | Heather | Jaci | Kristoffer | Linda |
| Liticia Lister | Mary Ellen & Ej | melissa hughes | Patty | Brenda Ann Dyer |
| ABBEY AND JODY | Megan S | Selena M | Amy | shelly clarke-harvey |
| Annie | Ju~ana R. Heath | MARY AND CHRIS JONES | Jessica Mueller | Lori Roberts |
| LINDALULU | KaseyLeigh | christine | Erica DeRosa | Tommy & Patty |
| ~W | mandy,paul,michael and adam | Patricia | Amanda H. | April King |
| anne - australia | Thomas and Kyra Longhway | Leah Seslar | Margaret and Paul Kasperski | angelina |
| TANISHA AND VANESSA | christi gilbert | Toni | Toni,Tyler,Kelsey & Korey | nicole |
| NABILA BRENDA | Kathleen | jade claye and sharon | stacie demetropoulos | Therese, Alexander; Robin. Max, Johan |
| Candace & Toni | Kim Gray | Karen Champion N.S. Canada | Devin Grimm | Alana Charisse |
| *Dreaming Louise* | katrina | anja izelaar | jennifer and cj thomas | JennyC |
| Nikova, Jon, Olivia and Amber | Janice | Amanda Dyer | Julia Tramantano* | Mimi Mala |
| Webmor DK | susie | megan brooks | faith | Alexanderia |
| Deepa | Lisa prue | kimberly kiser | | |
Messages for Brenda
Leah Seslar
Rest in peace

---

Margaret and Paul Kasperski
Little Brenda you are now with the angels who will
always love you and no more pain

---

NABILA BRENDA
MY LOVE NOW IAM WITH YOU
FOREVER AND EVER,

---

jade claye and sharon
rest in peace

---

Karen Champion N.S. Canada
Rest in peace, little one. The Lord will deal with those who
harmed you on judgement day. You are mourned.

---

Devin Grimm
i can't belive how someone would have the nerve to do
that.they must have been so cold hearted.well..at least she is away from them
now in a better place

---

Alana Charisse
May God keep her close to him
Janice
Fly with the angels baby girl. Now God has another perfect
rose in his garden.

---

Amanda Dyer
Bless your sweet little heart Brenda.

---

Mimi Mala
Makes no sence!! There is a place for people like dis! Brenda
u r truely an Angel and a soilder. Gosd Bless..Amen

---

Webmor DK
May you rest in peace - safely in Gods Hands now!!!

---

Deepa
xoox

---

Lisa prue
There were no words to be spoken.
Rest in peace my little angel.

---

kimberly kiser
annie was such a sweet little girl.her mom and i were best friends in high school.
and i don't know what happened but when she married kenneth she stopped talking to me.
when this happened i cried for weeks. i even protested at the courthouse with other people.
she will forever remain in my heart and she will always be my little sweetheart.

---

Please feel free to place this angel on your web page
or in your email, so that others may find their way
here and adopt a guardian angel.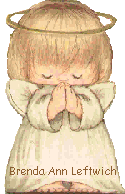 Please accept this gift for remembering her




Please adopt a guardian angel for Brenda,
Just fill out the form


Thank you for caring and remembering