Adopt a Guardian angel for
Christina




Mothers Of
Survivors


Lisa Dollerup


Candy


Christina


dave170155


Elisabeth


Alison


Barbara


Gillian


Ian


Jodi Denno


Jenny


Lindysue


Mystic


Maggie


misty angel


Patricia


Rosalie


Shanna


Silly


Tammi & Diana


Ulla-Jane


ABBEY AND JODY


Nick and Patti B


Annie


shelly clarke-harvey


Lori Roberts


Johanne


Helené


LINDALULU


KaseyLeigh


christine


Erica DeRosa


Amanda H.


Francis


Thomas and Kyra Longhway


angelina-family


christi gilbert


Kathleen


Christina Karlsdotter Larsson


Pialill


stacie demetropoulos


Allison Elizabeth


Cara :-(


April King


Therese, Alexander; Robin. Max, Johan


Candace & Samantha


Sarah


Karen Champion N.S. Canada


Maddizen


Vicki


Evette


Erica N. Strickland and Liam McElhattan


katrina


Gunilla Elisabet


The Haers Family


jennifer and cj


Mimi Mala


Webmor DK


faith
Messages for Christina
Christina Karlsdotter Larsson
Dear little Christina!
Hope you are safe in the hands of Lord.
Far from pain on this world.

---

Pialill
I dont know what to say...Its make me so sad to read about Christina.

---

Allison Elizabeth
Christina Blain, you are a beautiful little angel in heaven

---

Sarah
I hope that you're safe now Christina, in the hands of the lord!

---

Karen Champion N.S. Canada
May god rest your soul in peace little angel. You are mourned, beloved one.

---

Vicki
It's so sad that people do this

---

Evette
God bless you little one

---

Gunilla Elisabet
rest in peace

---

The Haers Family
Christina Blain, May you run and play and never hurt again.
God bless.

---

Mimi Mala
Wow!!Makes no sence!! There is a place for people like dis!
Christina u r truely an Angel and a soilder. God Bless..Amen

---

Webmor DK
May you rest in peace - safely in the hands of GOD.

---

Please feel free to place this angel on your web page
or in your email, so that others may find their way
here and adopt a guardian angel.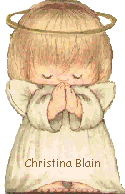 Please accept this gift for remembering her

Please adopt a guardian angel for Christina,
Just fill out the form