Adopt a Guardian angel for
Beaunca

Amy


Amiee Leonard


angelmystx


Caryn


Caroline Buchanan


DeNay Simpson


Eve Chilton


Gudrun


Joanna


John & Lori


Jennifer


Julie K Johnson


Kim


Lyndsay


Torunn Silnes


Lynn Hampson


Liticia Lister


Maud


Melissa


May


Pat


Aluria Aarhus


Naomi Hollier


Aleigha


Anonmous


carolyn tillberry


angela


Helen


Ann-Marie


Alissa Bailey


MARIA


Annie


Anna Nilsson


Annelie Söderholm


Charlotta El Batal


Sussi


Eva Carlsson


shelly clarke-harvey


Elaine


Lori Roberts


Jatoe


Jade Manson


LINDALULU


Faye Harmon


KaseyLeigh


chellie


Erica DeRosa


Kim


Starlet


Donna Hall


~W


Caroline


Rebeckah Larsson


Lori Higgins


Jennifer Martzall


mandy,paul,michael and adam


The Yannantuono Family


Tracy


christine


angelique


donald and patricia heyen


Karen Edwards


Leticia Echavarria


Joan Shafer


Amanda H.


April King


Virginia


Anne - Australia


TWYLA, AND HER LOVING DAUGHTERS


Starla Hines


Agneta Svensson


Thomas and Kyra Longhway


Elizabeth Ward


angelina


Lori Sherry


Sherrie L. Payne
and friends and family


Amanda Lowe


Amanda


Kathi Delcollo


Kelly McGraw


ELIONOR,AHLIN


christi gilbert


Stephanie


Amanda


Jen


Amanda Gary


Kathleen


tiffany


The Goose


Karen Wenner


stacie demetropoulos


Jacqueline Clarke


bomkoth


Amy Hughes


Allison Elizabeth


Derek and Melissa Brown


Sarah Tyne


Kathy Schroeder and family


crystal_74


Teresa


Lois L. Stiver


Camilla


linda and amanda


Suzanne Thibblin


Sussie


Rita and Sarah


Mourner


Therese, Alexander; Robin. Max,Johan


Peggy


Chelsea Miranda


Candace Parton


grace


ray


valarie and de'ronn


Laurie Kryzanek


Kim Gray


Karen Champion N.S. Canada


Kelly


Jessica Fagan


Kimmerly


Crystal Herrera


Michele DeLor and Girls


Alana Charisse


katrina


Gina, Bruce, Aaron & Michael


Cristen Maxwell


lauren


Cheree


Sarah


Randi


Erin


Erin Callahan


Janice


~DEZ~


ladyexplosive


Ally


Suzanne


Morgan


Aayush Ashok


Jenna Leon


Webmor DK


Jane Harrison


Jenn


Christina Rogers


Geri Sellers


Shirley Blackley


Mandie


rebecca


nam
Messages for Beaunca
Joan Shafer
God love her

---

Amanda Gary
Bless you sweet one

---

Kathleen
No more suffering precious little one..you are free

---

The Goose
May you always be much loved

---

Jacqueline Clarke
God Bless little Angel

---

bomkoth
~*Rest In Peace*~

---

Allison Elizabeth
Rest now, you are safe. You are free.

---

Teresa
my prays are with you

---

Suzanne Thibblin
You are in a better place now sweetie

---

Mourner
Be happy precious angel you are in a much better world with
your heavenly father!

---

ray
safe now little one

---

Karen Champion N.S. Canada
May god rest your precious soul. Amen.

---

Jessica Fagan
Your mommy will have her time at judgement day. The good Lord will see to that.

---

Kimmerly
God needed you, little angel

---

Crystal Herrera
Your story will live on in my heart

---

Michele DeLor and Girls
Rest in peace sweet angel.

---

Alana Charisse
May God keep her close to him

---

Gina, Bruce, Aaron & Michael
It is a sad day when a mother or father can kill thier own
child, life is so precious and should be to everyone. I lost my brother
who was only 25, Jan. 16, 2004 to an accidental overdose and it has been
so hard for the whole family, I couldn't imagine killing or even
hurting my children. May God look down and touch each and every one of us and
help us to be the best parents and people we can be.....God Bless you sweetheart....

---

lauren
how sad!!!!!!!!!!

---

Erin Callahan
peace be with you... there is no more cause for fear

---

Janice
Wrap your loving arms around this prescious baby girl Dear Lord. Amen.

---

~DEZ~
may you stay sweet and blessed

---

ladyexplosive
R.I.P little angel

---

Ally
God Bless you, may you find peace in heaven forever x

---

Morgan
You will always be love...!

---

Webmor DK
May you rest in peace. You are safe now - in Gods Hands!

---

Jenn
Rest in Peace

---

Christina Rogers
Rest in peace little angel

---

Shirley Blackley
so many prayers and hugs, god bless

---

rebecca
U r safe now, my your story inspire all to prevent the
abuse and pain that has been spread throughout the world.
Rest in peace little one, ure in God's arms now.

---

nam
RIP

---

Please feel free to place this angel on your web page
or in your email, so that others may find their way
here and adopt a guardian angel.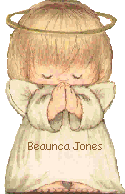 Please accept this gift for remembering her




Please adopt a guardian angel for Beaunca ,

Just fill out the form


Thank you for caring and remembering