Adopt a Guardian angel for
Baby Boy Faber
Messages for Baby Boy Faber
April Steegstra
May You Rest In Peace!!!
Allison Elizabeth
I name you Gregory, because no one should die without being given a name.
Ashley Weatherholtz
Reading all these stories just make me cry, why would someone
do that to there own child?
karen Champion N.S. Canada
The Lord will exact his revenge on those who harm the
innocent. May your soul rest in peace beloved angel.

Alana Charisse
May God keep him close to him
Evette
God bless you little angel.
Leisla Yasmin
rest in peace lil baby!!
athina beazer
i'm soooo sorry
Monique & Sacara Thomas (Sister's), Vanna Wynkope-Thomas
Little Baby Boy you were truely Blessed in a weird way not to
have to be in the care of such awfully cruel people. We know your in
Heaven singing and playing with all the Angel's. We can only hope we will
stop the abuse in our Family with our prescious little one Vanna.
We Love You baby girl.
Mimi Mala
Makes no sence!! There is a place for people like dis! Baby
Boy Faber.. no chance to live.. u r truely an Angel and a soilder. God
Bless..Amen
Webmor DK
May you rest in peace - safe now in the hands of GOD.

Please feel free to place this angel on your web page
or in your email, so that others may find their way
here and adopt a guardian angel.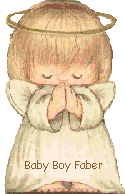 Please accept this gift for remembering him





Please adopt a guardian angel for Baby Boy Faber,



Thank you for caring and remembering