Adopt a Guardian angel for
Arian
Messages for Arian
anne - australia
it will stop one day Arian

---

Margaret and paul Kasperski
Arian you are a perfect little angel now

---

Allison Elizabeth
God Bless you, little Angel Girl

---

Alissa, Kayla, and Celeste
The suffering is over and your spirit can fly free.

---

Karen Champion N.S. Canada
Your death will not be in vain, precious angel. The Lord will
punish those who harm the innocent. You are sadly mourned dear child. I
will remember your suffering, Arian. Be at peace with god, sweetheart.

---

Alana Charisse
May God keep her close to him

---

Evette
Your in the Lord's arms where no one can hurt you little one.

---

Amy
your now in a safer place resting with the angels sweet dreams
sweet child xxxx

---

wahiba
heres my guardian angel for you arian

---

Mimi Mala
Makes no sence!! There is a place for people like dis! Arian u
r truely an Angel and a soilder. God Bless..Amen

Webmor DK
May you rest in peace - safe in the hands of GOD!

Layla
I'm Iranian too. That's just plain evil. Poor Arian.

---

Tamara and Chloe
: You'll be safe now
Daytwon Bennett
I'm sorry for all these children!!! I can't believe anyone
could do this to anyone , not along a child. I miss you all!!!!
Please feel free to place this angel on your web page
or in your email, so that others may find their way
here and adopt a guardian angel.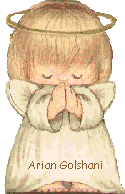 Please accept this gift for remembering her

Please adopt a guardian angel for Arian