Adopt a Guardian angel for
Alexis



| | | | | |
| --- | --- | --- | --- | --- |
| Karla Cline-Sanders | Marja Emanuelson | Donnalynn | Ellen | Ian |
| JANET | Jennifer | Loriann | Laura Collins | Mary |
| Mary Gower | Silly | Sunny | Tina and Baby Jessica Deschambault | Michelle Shafi and family |
| Annie | Felix | shelly clarke-harvey | Lauren | MARY AND CHRIS JONES |
| Lori Roberts | LINDALULU | nikki soto | KaseyLeigh | Andrew and Tammy Bowen |
| DENISE CLARK | Lori Siegel | christine | Amanda H. | Thomas and Kyra Longhway |
| Leah Seslar | Roberta Bartlett | natasha michelle gillilan | Linda | christi gilbert |
| Eva Tudela | Gayle and Michael Cline | Teresa N Cole | Kathleen | Heather |
| jade and claye | stacie demetropoulos | Rebecca Harden | Tiffany | April King |
| Therese, Alexander; Robin. Max, Johan | Candace & Samantha | Karen Champion N.S. Canada | Ashten Folker | Evette |
| katrina | jennifer cj and brenda | Mimi Mala | Webmor DK | faith |
Messages for Alexis
jade and claye
rest in peace

---

Karen Champion N.S. Canada
You will be remembered little angel. May god rest your soul in
peace. The Lord will avenge thee.

---

Evette
God bless you precious baby

---

Mimi Mala
There is a place for people like dis! Alexis
u r truely an Angel and a soilder. God Bless..Amen

---

Webmor DK
May you rest in peace - safe in the hands of GOD.

---

Please feel free to place this angel on your web page
or in your email, so that others may find their way
here and adopt a guardian angel.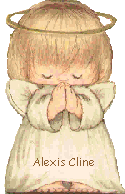 Please accept this gift for remembering her

Please adopt a guardian angel for Alexis
Just fill out the form